Strain Review: Tri-Fi by Grizzly Peak
New Review of @grizzly.peak #trifi Grizzly Peak Tri-Fi 20.25 % THC
Lineage/Genetics: Triangle Kush x Thin Mint Cookies
Indica or Sativa: Indica dominant hybrid
Original Breeder: Cannarado Genetics
Grower: Grizzly Peak
Tri-Fi Strain Review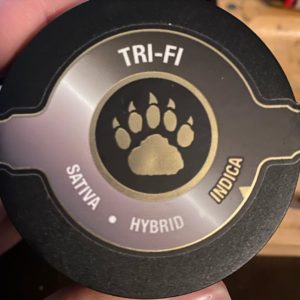 Note: the QR code did not work on the sticker. I asked their IG page what was up and it took some back and forth to figure out what went sideways with it. After about a week or two, their main rep emailed me the COA with passing numbers and apologized for the delay and miscommunication. The brands out here in Cali are subject to multiple changes on the back end to make it thru the METRC and BCC hoops. I wasn't scared or spooked off a weird QR but did want @grizzly.peak to know the code didn't work. They made it good in my eyes. Def keep supporting.
Review notes below. 💯
Comments:
Long time fan of Grizzly Peak strains but haven't been seeing them as much with newer strains. Saw this and new I had to pick it up for a review.
Review: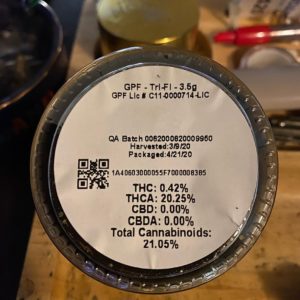 1. Scent: Earth and sugar. Best guess is it's a tootsie roll candy however slightly muted. The sugary comes off that thin mint parent while the typical kush pine/earth vibes roll off the nose from the Triangle line.
2. Appearance: No money nug but all are pretty good size. Little pineapple lookin nuggets sprinkled with trichomes, red blending into orange hairs; lookin pretty good.
3. Nug Structure: Easy to pull apart under a little bit of pressure. The fingers are not fully sticky, however the bud was a little dry. Needed some hydration.
4. Smoke: Minty and thick at first. Little harsh day one pre orange peel but picked up again day 2-4 with better notes. Not as harsh.
5. Taste: Exhale of maybe some cake batter but mostly warm earth and little spice. The sugar notes take it over after a long exhale from the bong.
6. Reaction: Decent pick up from them. Would prob need to question why the QR code didn't work but half the brands out here don't even throw things on there to cross check. Grizzly is always a welcomed brand at this house and TriFi was welcomed with open arms.
#cannabiscommunity #cannabis #cannabisreviews #trees #weed #weedreviews #pot #potreviews #thc #sacramento #916 #420 #yee #legal #strainreview #california #valley #oakland #thehighestcritic #cleanupourindustry #grizzly #peak
Advertisements