Strain Review: Kosher Dog by Pacific Reserve
New Review time!
@pacificreserve Brand: Pacific Reserve
Strain: Kosher Dog
20.17 %THC
Lineage/Genetics: StarDawg (guava) x Kosher Kush
Indica or Sativa: Indica dominant Hybrid
Original Breeder: DNA Genetics
Grower: Pacific Reserve
Kosher Dog Strain Review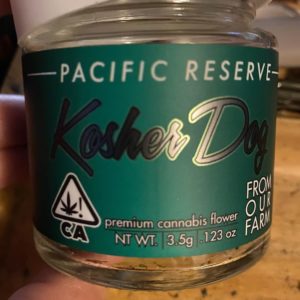 Comments:
Our pals at Pacific Reserve dropped a new batch at my club so I had to swoop. Kosher Dog is a cross of StarDawg (Guava) x Kosher Kush.
Review:
1. Scent: Pine and pepper from the Kush parenting. The spice is more on the inhale versus the exhale if that makes sense.
2. Appearance: Dark and light hues of olive green topped with milky white trichomes. Not much other color to report.
3. Nug Structure: Decent nug selection for the ticket. Each one tumbled off the stem with ease and left a little stickiness.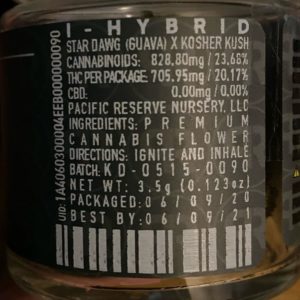 4. Smoke: Great lung pull off the bong. Wasn't too harsh with ice but I did use a pipe and ended coughing a bit harder.
5. Taste: Organic spice, little bit of a pine but I was expecting a little more of it given the kush parent.
6. Reaction: All around spacey but not completely lost after the first toke of the day. Wore off about half hr, maybe 45 mins later so if you roll doobies or bluntolas, add a lil more. Def one to keep when the budget is tight and it burned clean all the way through the 8th. Preferably an afternoon or nighttime smoke for me.
#cannabiscommunity #cannabis #cannabisreviews #trees #weed #weedreviews #pot #potreviews #thc #sacramento #916 #420 #yee #legal #strainreview #california #valley #pacificreaercd #thehighestcritic