Strain Review: Triple Scoop Gelato by Gas No Brakes
TRIPLE SCOOP GELATO
By: @gasnobrakes777
Via: @24k_exotics
Lineage/Genetics: Super Silver x Grape L.A. x Sorbet
Original Breeder: DNA Genetics
Grower: Gas No Brakes
Distributor: 24k Exotics
Triple Scoop Gelato Strain Review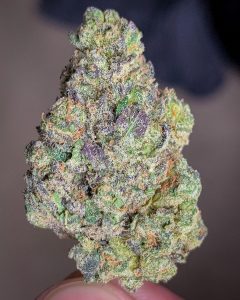 24k Exotics has once again struck gold by landing a number of Gas No Brakes strains. Today we are smoking Triple Scoop Gelato, a strain I've been seeing more and more, and was excited by the looks of this cut. Genetics are a bit of a mystery — there is "Triple Scoop" (Super Silver Haze x Grape LA x Sorbet) but also "Triple Scoop Gelato" (Two Scoops [Grape Sherbet x Orange Sherbet] x Gelato 33. Based on my impressions of this one, I'm leaning towards the latter.
Gas No Brakes' Triple Scoop Gelato arrives in pre-sealed packaging, and the eighth consisted of 2.5 well manicured buds. The color palette is incredible. At its tips, Triple Scoop shows pastel, paris greens housing a sour candy like coating of trichomes. Yet, the predominant, eye popping color is a deep royal purple, fading towards jam/magenta red-violet at the stem.
As anticipated, the nose on Triple Scoop is highly reminiscent of a classic Gelato and pine with malty grape soda overtones and a slight citrusy zing. Roles seem to reverse after lighting the strain up however. Hits are smooth, floral and gassy,but the predominant flavor that comes across is a creamy orange more akin to a smoothie than say candy terps.
Relaxation is the name of the game after a few bowls of Triple Scoop, best exemplified by a heady cerebral haze which incentivizes an immensely satisfying sense of tranquility and stress relief. The onset isn't slow by any means, but the effects do gradually build up to their full intensity. On the physical side, a noticeable body buzz flows through the limbs and as a result the body feels light, loose and warmly lethargic.
#Budfinder
•
•
•
•
#dcweed #420 #stoner #marijuana #dccannabisculture #strainfinder #thc #dccannabis #puffpuffpass #dopesmoke #dmv420 #topshelf #stoner #whiteashonly #cleanmeds #i71 #gasnobrakes #triplescoop #gelato #triplescoopgelato
Advertisements