Why are Terpenes so important?
Terpenes are truly a treasure trove of amazing benefits when it comes to dissecting Cannabis DNA.
What are Terpenes? Why are Terpenes important?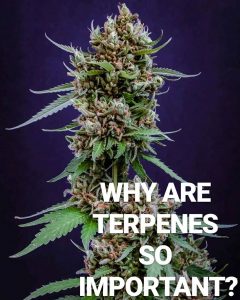 Terpenes are pronounced tur-peens, and play an integral role in the plant's taste, smell, and even the experience. Of the many chemicals and compounds that comprise the cannabis plant, researchers say that about 140 of them belong to terpenes. Your nose knows best, and that's something I relay to my customers, daily. When you're looking for cannabis flower, take your time to smell and get a feeling for the different strains. When you go for a strain that smells good to you, chances are, that your high will be really elevated.
For example, take the popular strain Pineapple Express. It has a scent that is a little floral, with a taste similar to pineapple, pine, and cedar. Some of its dominant terpenes have names like Terpinolene, Pinene, and Carophyllene. We'll go more in depth on specific terpenes in future posts, but for now, just remember that terpenes like these help to give Pineapple Express, it's more euphoric, energizing effects.
Terpenes are much more profound than what current research tells us, in fact, we are just scratching the surface on their relationship to cannabis. What an exciting era of discovery we're apart of.
#themoreyouknow #cannabiscommunity #weedbegoodfriends
Photo Cred 📷🌿 @norcalmedicineman .
.
.
.
.
.
#learn #knowledge #science #weedstagram #cannabiscommunity #highsociety #cannabisculture #weedlovers #highlife #highvibes #goodvibes #herballife #herb #maryjane #weedphotography #dabstagram #weed #marijuana #cannabis #kush #smoke #dank #pot #highlife #thc #bud #hightimes
Alejandro Perez is the owner of CannaQuestions, an educational community for cannabis consumers. Find his page on Instagram @cannaquestions, or visit the official website cannaquestionsofficial.com!
Advertisements