(Save this post as a reference for your next dispensary visit!)
If you've ever been weed shopping, chances are, you've been asked the age old question "Indica or Sativa?"
What is Sativa? How is it different than Indica?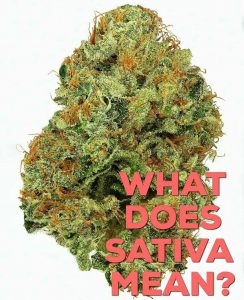 Here's what you need to know.
SATIVA: pronounced sat-eev-uh, is one of the three main genotypes (special plant characteristics) of the cannabis plant. Their physical traits usually include a tall body, and narrow leaves. Typically, Sativas give users a more energizing and euphoric effect, and have been known to yield higher THC percentages. A sativa strain might be what you're looking for if you're experiencing fatigue, looking for a good laugh, attending a concert, or trying to treat depression or sluggishness.
@greenrootedlatino, for example, smokes Sativas before or during work, in place of coffee, and on hikes or social outings. Many musicians love sativas for their creative inducing highs as well. Some popular strain names to look for would be: Diesel, Lemon, Cheese, and Chem type strains. Keep in mind, that there are over 2000 strains and counting, so take your time to really learn what's behind the strain name on your next dispensary visit. Ask questions like "what are the parent strains of this one?" You may be surprised to find out what you learn!
Comment your favorite Sativa or Indica strains below Nd get featured in a future post! #themoreyouknow #cannabiscommunity
Photo cred 📷 @kushector .
.
.
.
.
.
.
.
#learn #knowledge #science #weedstagram #cannabiscommunity #highsociety #cannabisculture #weedlovers #highlife #highvibes #goodvibes #herballife #herb #maryjane #weedphotography #dabstagram #weed #marijuana #cannabis #kush #smoke #dank #pot #highlife #thc #bud #hightimes
Alejandro Perez is the owner of CannaQuestions, an educational community for cannabis consumers. Find his page on Instagram @cannaquestions, or visit the official website cannaquestionsofficial.com!
Advertisements