Concentrate Review: Sunset Sherbert Wax by Perecan Farm
Perecan Cannabis always loads up that good good for economical prices. I feel like I'm getting two grams of oil for 1/3rd the price of a gram.
Lineage/Genetics: Girl Scout Cookies x Pink Panties
Original Breeder: SHERBINSKIS
Processor: Perecan Farm
Sunset Sherbert Wax Review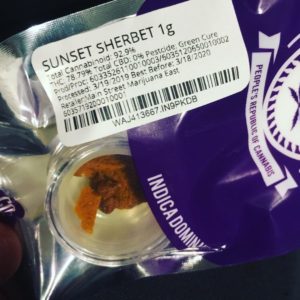 STRAIN: Sunset Sherbert Wax by Perecan
AROMA: Berries, grape and bubblegum
FLAVOR: Gasy and sweet.
EFFECTS: INDICA DOMINANT
EXTRACTION METHOD: CO2
CONSISTENCY: Waxy, but softer and more malleable than other Perecan waxes. Almost melts in your hand while handling.
FOLLOW: @perecan502
.
.
.
.
.
.
.
#420 #420Society #Hemp #WeedPorn #Weedstagram #LegalCannabis #Kush #Legalizeit #orRecreationalMarijuana #waRecreationalMarijuana #710society #cannabisculture #710 #Weed #Cannabis #industrialHemp #i502 #Terps #Terpenes #CBD #THC