Concentrate Review: Cedar Creek Santa Cruz Sugar
Cedar Creek Cannabis out of Washington State recently started making concentrates from their premium line of flowers using Hydrocarbon Extraction methods.
SANTA CRUZ STRAIN INFORMATION:
Santa Cruz was created from the crossing of rare cuts of OG Kush. Santa Cruz is also known by the name of 831 OG, according to Leafly.com.
( Inferno F1 cut  X  SFV OG )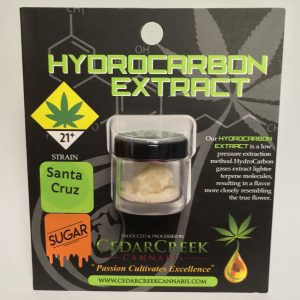 INDICA DOMINANT HYBRID
AROMAS: Pine, as I get with a lot of CC's hydrocarbon extractions.
STRAIN BREEDER: 831 Organiks
CONSISTENCY: Sugar
About Hydrocarbon Extraction
Hydrocarbon Extracts are made from running HydroCarbon gases through the plant material at low pressures to extract cannabinoids and terpenes. Extraction methods using HydroCarbons extract lighter terpene molecules resulting in a flavor more closely resembling the true flower. More information on Cedar Creek's Hydrocarbon extracts and other products they offer can be found on their website.
Produced and processed by Cedar Creek Cannabis
Instagram: Cedar Creek
Advertisements