Concentrate Review: Blue Dream Oil by Cedar Creek Cannabis
Blue Dream Oil (Terp Sauce) from: Cedar Creek Cannabis
Lineage/Genetics: Blueberry x Haze
Original Breeder: Unknown
Grower/Processor: Cedar Creek Cannabis
Blue Dream Oil (Terp Sauce) Review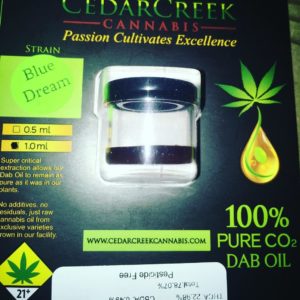 When I hold this product in my hand, I think of it as medicine. When I smell and look at this product, and think about the company that grew and processed it, I don't immediately think of recreational pot use, I think of it as 'medicine' for myself.
I've used many Cedar Creek products and many other concentrates from other companies. This is a product from a company that I know will have health benefits to my mind and body. It comes from a plant that was grown properly. The product is clean and consistent. I trust the company that made it.
The rich floral aroma of Blue Dream oil, a little CBD, not too much THC, relaxes my body and wakes my mind up to exactly where I need and want to be for the day.
STRAIN: Blue Dream
AROMA: Floral, sweet
FLAVOR: Tangy and sweet
EFFECTS: [Sativa Dominant] Hybrid: body high and heady high.
EXTRACTION METHOD: CO2
PRICE: $18 for 1 gram.
FOLLOW: @cedarcreekcannabis
@cedarcreekcannabis_ .
.
.
.
.
.
.
#TerpSauce #420 #i502 #420Society #Hemp #Weedstagram #LegalCannabis #Kush #Legalizeit #RecreationalMarijuana #cannabisculture #CBD #THC #Terps #Terpenes #710 #hotbox #WeedPorn #710society #Weed #Cannabis #industrialHemp
Advertisements