Concentrate Review: White Buffalo Rosin by Blue River Terps
White buffalo rosin from @blueriverterps and @trulieve_fl is incredible!
Lineage/Genetics: Romulan x Blackberry Kush x Bay 11
Original Breeder: Unknown
Grower: TruFlower
Dispensary: Trulieve
White Buffalo Rosin Review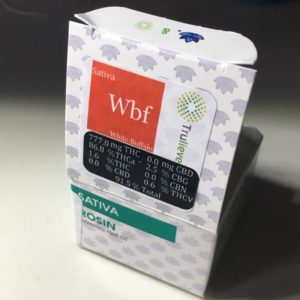 Such a great way to start the day🌞A fantastically euphoric and bright medicating effect with a lot of CBG for pain relief, stress relief, and anti-inflammatory properties all of which I love and need in a strain especially one that doesn't make me sleepy.
Also, what I love about the rosin is how almost-identical it smells to its flower form.
Solventless all the way baby🌿💚🍯
THC: 1.6%
THCa: 86.8%
CBG: 2.5%
THCV: 0.6%
Total Cannabinoids: 91.5%
#indicadam #southflorida #cannabiscommunity #flmedicalmarijuana #floridamedicalmarijuana #legalcannabis #cannabis #strainreview #floridacannabiscommunity #flmmj #nugshot #medicalmarijuana #floridacannabiscoalition #floridacannabis #thc #mmjpatient #mmj #terps #terpenes #medicate #medicine #blueriverterps #trulieve #sativa #solventless #rosin #whitebuffalo
FL mmj patient
Cannabis advocate cataloging strains available to patients in beautiful Florida
Nothing for sale
18+ page only