Cultivar Review: Baby Yoda by Grow Iller O x Loyalty7_icmag
Baby Yoda #BabyYoda by @grow_iller_o x @loyalty7_icmag
Lineage/Genetics – Khalifa Kush x The Menthol
Bred by: Compound Genetics @chris_compound
Grower: Grow Iller O x Loyalty7_icmag
Terpene Profile: Unknown
Baby Yoda Cannabis Cultivar (strain) Review
@grow_iller_o is a New England based cultivator. He is a 3rd place winner 🏅 New England HTTC competition of 2017. Master grower @loyalty7_icmag put me on to his work.
I will be reviewing some of his collaboration with @loyalty7_icmag . Baby Yoda is the creation of The menthol combine with Khalifa Kush, bred by @chris_compound. The structure is an example of the OG Kush lineage dominant cultivars. The celery color buds, tangerine color pistils, forrest color hues.
The Mylar is design like it's being sold as one of those monkeys NFTs. The scent is herbal, minty, diesel fuel. The palate is a menthol, og woodsy light myrcene sweetness. Baby yoda is an og dominated savor that makes you appreciate this cultivar. It reminded me a bit of Newports due to the menthol tobacco caryophyllene spice aroma. The effects are medium level cerebral effect. The heady high stays intense for the first 40 min after the sesh and starts balancing for a nice body high equal to a total of 1.5 high. I started feeling the buzz around 5-6 pulls in. The smoking experience led to a 60/40 more salt than pepper on the ash.
The inhale was smooth the exhale a bit harsh due to the caryophyllene spice. Overall Baby Yoda is a good cross coming from the well talked blazing Khalifa Kush. The effects are the highlights sending euphoric comatose vibes to the mind and body. The appeal, scent also makes up for the taste which I wasn't a fan off. In conclusion, Baby Yoda has potential to become a master to lead the force of the lineup of @grow_iller_o . Baby Yoda – 4/5
.
.
.
.
#weedreview #notforsale #cannabiscommunity #cannabisculture #highsociety #stonerlifestyle #stonersociety
#weedsmokers #smokingweed #cannabislove #cannabisconnoisseurscoalition #cannabislifestyle #cannabisconnoisseurconnection #420culture #cannabisgrow #cannabiscures
New @arcangel SR Santos in all music platforms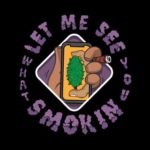 Advertisements