Cultivar Review: Doggy Bag by Snoop Dogg x Cookies
#doggybag by @snoopdogg x @cookiessf @cookies.newjersey x @realcookiesglobal
Lineage/Genetics – Project 4516 x Zkittlez #18
Breeder – Grandiflora Genetics x Snoop Dogg @grandifloraclothing x @mark_grandifloragenetics
Cultivator – Nickkd7 @nickkd7
Terpene Profile: Limonene Dominant
Dispensary: Apothecarium NJ @apothecariumnj
Doggy Bag Cannabis Cultivar (Strain) Review
Every month I get the chance to get my monthly pickup at @apothecariumnj x @cookies.newjersey. This time I got the chance to try the doggy bag. The doggy bag is the creation of @mark_grandifloragenetics & #snoopdogg . The blends of Project 4516 & Zkittles 18 gives sweet and earthy tones mix with fuel. This flower was harvested around end of august. The strongest terpene is the limonene, total terpenes about 1.9 percent .
The thc is rated at 23 %. The structure on the nugs are concord purple hues blended with spinach green color buds, pumpkin color pistils, splatter with crystal trichomes. The scent is that Z sweet limonene aroma blend with a floral, diesel fuel . The palate is earthy, musky cardamom spice, light sweetness. It's like smoking on some clover raw honey 🍯blend with candy , followed by an earthy mix with fuel savor. I felt the z taste on the Raw papers more than the elements. The effects are a medium level cerebral high, eyes low results heady intense high. The smoke experience on the ash game is mix of 50/50 salt n pepper.
The inhale was fuel , combine with a sweet smooth exhale 😮‍💨. The high is intense for about an 1 hour and then starts fading can last about 1.5 . I felt the buzz around 7-8 pulls in. Overall it's a must try if you're a fan of grandiflora's work. I had it prior and this one had better effects, taste & scents. The ashes could of burned better, but I still enjoyed it. It's more of terpy flavorful, head high type of smoke .
I recommend it for an early " breakfast for champions"as @snoopdogg would say about the Doggy bag. 3.8/5
.
.
.
#weedreview #notforsale #cannabiscommunity #cannabisculture #highsociety #stonerlifestyle #stonersociety
#weedsmokers #smokingweed #cannabislove #cannabisconnoisseurscoalition #cannabislifestyle #cannabisconnoisseurconnection #420culture #cannabisgrow #cannabiscures #reels #cannabisconnoisseur #explorerpage #cannabisreviews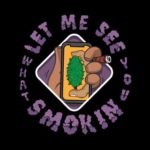 Advertisements