Cultivar Review: Fiji Sunset by Unicorn Tears
Fiji Sunset
Lineage/Genetics: (Glazed Grape Apricot x Grape Gasoline)
From: JAH Apothecary @jah.apothecary
Grown by: Unicorn Tears @unicorn_tears_co
Bred by: Compound Genetics @compoundgeneticsofficial & @chris_compound
Terpene Profile: Unknown
Fiji Sunset Cannabis Cultivar (Strain) Review
Reefa rating :
Smell- ✅
Look-❎
Smoke-✅
Taste-✅
High-✅
Memorable-✅
Much love to my fellow @newyorkstategc judge @jah.apothecary you had a feeling I'd like this, n you was right!
Smell- Dominant herbal lavender floral aroma
Look- my 8 th was mostly small nugs colored predominately purple, with flakes of green between some bunches up brown pistils, and sprinkled with some trichome coverage. The x on the look is because it didn't appeal,,,to me.
Smoke & Taste- The smoke is an experience similar to that feeling of getting a pina coloda at a dive bar. Gives vaca vibes no matter where ya at. It's a smooth inhale that has a mint, rosemary, slight sort of citrus berry undertone. You hold the smoke in for a bit and you feel the smoke spread thru the lungs and your muscles relax. That combined with a strong woody musk exhale made this a memorable experience.
High- How can I say this so it makes sense,,, your mind is going to be in a creative/ productive state while your body feels like you just finished lifting weights lol
I felt super relaxed like I was chillen by a pool or beach, while still feeling productive enough to work on a laptop or read a book.
Memorable- Between the nose and the smoke this deff was memorable especially paired with a clean and lasting high.
#robbreefa #reefaradio #jahapothecary #fijisunsetreview #explorer #explorerpage #nyccannabis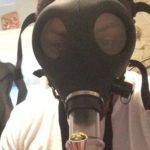 Cannabis Content 🍃🍃🍃
Best Strain Reviews🤣💯
Under 60 secs♻️
Watch before you buy‼️
One of NYC's Top Stoner💨
Nothing for sale🚫
Content intended for ages 21 and over
Check out more reviews and all the videos by @robbreefa on Instagram! (www.instagram.com/robbreefa)
Advertisements