Cultivar Review: Syra from Titan's Greenery
Syra (genetics unknown) from @titansgreenery @titansgreeneryarts_bydrgreen @dr.greennyc
Brand: Titan's Greenery
Syra Cannabis Cultivar (Strain) Review
Reefa rating :
Smell- ✅
Look-✅
Smoke-✅
Taste-✅
High-✅
Memorable-❎
@titansgreeneryarts_bydrgreen is easily one of my favorite places to be in lower Manhattan. Its a dope smoke friendly space, catering to patrons of art & cannabis.
Smell- gelato aroma that engulfs your nostrils within the same couple seconds it takes to spin the lid off. Then you get this pine eucalyptus scent on the backend that is just as powerful.
Look- Super appealing vibrant green medium sized nugs that are carefully trimmed letting its full beauty be recognized. This resinous bud will for leave your fingers sticky to the squeeze. Nfs
Smoke & taste- Smooth smoke experience from inhale to exhale, beginning to end. The first half of the joint was packed with sweet pine, and musky spice earth was on the backend. Towards the end the taste became less noticeable.
High- Fast acting! I mean I wasn't even a 3rd of my way thru the joint before I started feeling a slight wavy ness affecting my body,,, some stoners may know what I'm talking bout lol. After smoking this 3xs I can stay this is deff a high for the wake and bake as it's not something that'll leave you super sedated. You'll be functional and relaxed. My only thing was I felt it never really lasted that long. It was great for getting my morning started but not for a evening highway cyph.
Memorable- I gave this an x because although enjoyable I wouldn't stay this is something that'll knock you off your feet, but it'll take the edge off.
#robbreefa #reefaradio #titansgreenery #drgreen #syra #strainreview #nyccannabis #explorer #explorerpage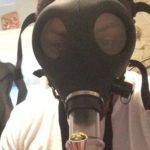 Cannabis Content 🍃🍃🍃
Best Strain Reviews🤣💯
Under 60 secs♻️
Watch before you buy‼️
One of NYC's Top Stoner💨
Nothing for sale🚫
Content intended for ages 21 and over
Check out more reviews and all the videos by @robbreefa on Instagram! (www.instagram.com/robbreefa)
Advertisements