Cultivar Review: Octane Sherb Mint by Jackpot Genetix
Octane Sherb Mint
Lineage/Genetics: (Sherb Octane x Kush Mintz)
Original Breeder: Jackpot Genetix
Grower: Jackpot Genetix @jackpot_genetix
Terpene Profile: Unknown
Octane Sherb Mint Cannabis Cultivar (Strain) Review
Reefa rating :
Smell- ✅
Look-✅
Smoke-✅
Taste-❎
High-✅
Memorable-❎
Bigshout to @jackpot_genetix_timmy and the whole jackpot crew for valuing my opinion.
Smell- sweet/refreshing earthyness jumps out at you.
Look- light greyish hues combined with bright greens, dripped down in trichomes
Smoke- Smooth smoke experience from inhale to exhale. Inhale is deff one that will exercise your lungs.
Taste- Didn't do it for me. Off rip I got a crisp woody menthol that made my lip tingle a little lol. That flavor lasted almost halfway thru until I feel like it just started to taste like smoke. So being that I didn't like the woody menthol flavor combined with it not lasting the whole way thru is why I gave it a x.
High- Packs a punch. Like I said this one will put you to sleep, especially if you smoke in an even slightly comfortable place lol. Maybe smoke it w a coffee if your having it during the day.
Memorable- strong high, but I can't say this checked all the boxes for me. Looking forward to seeing more of their work!
#robbreefa #reefaradio #jackpotgenetix #strainreviews #explore #explorepage #qgtm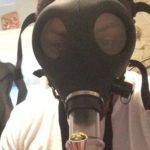 Cannabis Content 🍃🍃🍃
Best Strain Reviews🤣💯
Under 60 secs♻️
Watch before you buy‼️
One of NYC's Top Stoner💨
Nothing for sale🚫
Content intended for ages 21 and over
Check out more reviews and all the videos by @robbreefa on Instagram! (www.instagram.com/robbreefa)
Advertisements