Cultivar Review: RS11 from Chicha Boyz x Tri State Collective
Rainbow sherbet #11
Lineage/Genetics: (ozk x pink Guava)
Original Breeder: Deep East
from: Chicha Boyz x Tri State Collective @chicha_boyz & @tri_state_collective
Grown by: anotherbowl420 @anotherbowl420
Anotherbowl420 Rainbow Sherbert #11 Cannabis Cultivar (Strain) Review
Reefa rating :
Smell- ✅
Look-❎
Smoke-✅
Taste-✅
High-✅
Memorable-✅
Big shoutout to @skeemxcream7 ,,,working on something 🔥with this rs11 clone from @doja.pak
Artwork done by: @__fvvee_
Smell- deep sweet aroma of a candy or fruit
Look- I gave this a x solely on personal aesthetic preference. This shouldn't hold too much weight. The medium sized buds had a dark greenish /grey hues. Amber pistils. The structure didn't really move me but it had a nice amount of stick when squeezed.
Smoke & taste-I gotta say man if you got baby lungs take small drags. This cultivar has a full smoke to it that'll put some hair on ya chest lol. Inhale very sweet in the beginning with a sorta spicy floral undertone. I noticed towards the end of the joint the sweetness be came more mild and the spice flavor I was picking up was standing out more.
High- I really felt like my environment played a big role because on the first smoke, it was tuff to keep my eyes open. On the wake and bake I felt calm, euphoric, and looking to tackle whatever challenges were ahead of me for the day.
Memorable- I gotta say,,,I can understand why so many ppl lined up to get a clone of this. I mean it's one of those that leave you feeling like your on a rainbow road Fr! Lol I've had rs11 a few times before. Each time it delivered on the high. What made this memorable was the smoke experience coupled with the high.
#robbreefa #reefaradio #rs11review #chichaboyz #tristatecollective #explorer #explorerpage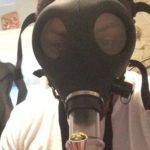 Cannabis Content 🍃🍃🍃
Best Strain Reviews🤣💯
Under 60 secs♻️
Watch before you buy‼️
One of NYC's Top Stoner💨
Nothing for sale🚫
Content intended for ages 21 and over
Check out more reviews and all the videos by @robbreefa on Instagram! (www.instagram.com/robbreefa)
Advertisements