Cultivar Review: "The Diesel" by Hole in the Wall Cultivation
"The Diesel" – @holeinthewallcultivation
Nose: burnt rubber/pine, earthy, floral, citrus/lemon, sour
Inhale: Citrus, piney, diesel, floral, chem, sour, spicy, tangy
Exhale: Piney, sour, chem, tart, woody, fruity, piney
Lineage/Genetics 🧬: Unknown
Bred by: Unknown
Cultivated by: Hole in the Wall Cultitvation
Terpene Profile: Unknown
"The Diesel" Cannabis Cultivar (Strain) Review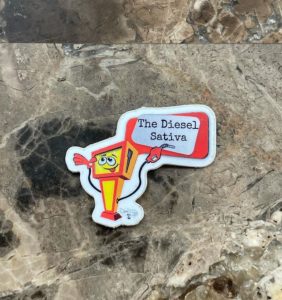 Hey what's up everyone? I hope you all are having a great weekend and ready to lock in to some football on this cloudy Sunday. Today, I have the debut of a special new addition to the page known as Hole in the Wall Cultivation, who I believe hails from out of Western Massachusetts. I'm going to be completely honest, I didn't know who these guys were before I attended Terptown Throwdown a few weeks back with the help from a few friends. As I found out, word of mouth, that Wu-Tang, along with other notable figures, typically pay these guys a visit when in town I wanted to see what the hype was for myself. Furthermore, after being told that their most notable cultivar, "The Diesel," brings back that old-school sour diesel aura I know I needed to try. After chopping it up with Hole in the Wall at Terptown, I learned that they originally received the genetics (which remain unknown) from an "old-school hippie" from Vermont. Ultimately, this has led them to perfecting the cultivar for 20-years, keeping the nostalgia flowing. In addition to this, all of their cultivation is done organically in living soil which peaked my interest from the start. They did happen to boast a handful of other offerings although I only grabbed a quarter of The Diesel for proper analysis. Naturally, I was extremely curious to see if this would live up to the hype everyone raved to me about at the event. Let's waste no more time and get into the facts!
I received the The Diesel in a zip lock bag which included a couple micro-sized slaps depicting a gas pump that looked more stoned than I usually am. I thought this was a unique added touch to very traditional packaging. Upon opening up the sandwich bag I was hit with fresh overtones of burnt rubber and pine.
Breaking the buds down were feasible either by grinder or hand although I found the best result was done by hand. As the buds broke up into relatively larger chunks they filled out the joint quite nicely. In the process of being broken down I sensed a strong aroma of burnt rubber and chemical pick up from those notes felt earlier. This also included lemon pine sol terps and a faint spiciness. The dry pull on the joint also included notes of lemon citrus as well as a touch of both floral and sour as the overtones in it called for a gassy smoke before hand.
When I sparked The Diesel in an Organic RAW, the initial inhales sparked terps of lemon and floral, setting the tone for the sesh. After about 6-8 pulls a taste consisting of both pine and sour suddenly bursted out giving this cultivar a gassy edge immediately. On the way out, a raunchy touch of skunk including retained notes of sour and pine made the follow through equally pressuresome. I wouldn't say this was excruciating but did lead to some mild coughing. It only took a fourth of the way into the sesh to recognize the same pine sol terps found in the nose left lingering through the inhale. At this same point I found most exhales exhibiting a grapefruit taste which intertwined into those developing sour chem notes. Getting closer to the halfway point in the sesh, the grapefruit taste mentioned earlier gave the exhales citrus-to-fruity back end.
Even though this was ultimately an earthier smell, I could feel myself reminiscing on the days I first started smoking gas way back when I was younger. My first instinct was to break into the large 7.2g nug that made up the quarter that, in turn, brought on notes of sour fuel and lemon citrus that stung the nostrils as I inches closer to the seams. From afar, this captured my interest, however, up close this one big bud was magnificent. Consisting of pale-to-lime green leaves that stood upwards, spots of dark purple, and bright red pistils this cultivar truly gave me implications of an "old-school" favorite. The texture of the bud was an even mix in between bushy and flaky including a moderate amount of density which gave the structure some durability when breaking apart. I must add that the one massive cola had a thick stem that extended throughout the entire body.
These were dribbles and drabs of sweetness that coated the mouth after that sour taste dissipated. However, this didn't stay for long and was tough to make out at points due to the bitterness exemplified from the lemons. The joint burned at a moderate pace which resulted in a thick lighter grey to white ash with some spots of darker grey within. Additionally, it was easy to spot the terps sweating off the joint as well. Not to leave out the fact that this cultivar being grown in living soil gave a lot of clarity/cleanliness to the overall taste. Later on in the sesh, the pine notes began to distinguish themselves from the citrus terps. This, unexpectedly, made those chem terps a bit spicy at points which added to the magnitude of gassiness. Though I could not pick up on too many changes within the terp profile in the later stages of the sesh, this 100% brought back fond memories of smoking sour and/or OG back in high school. I don't think this knocked my socks off the way I remember it did back in the day but I believe that has more to do with change of taste buds over time as well as an evolved palette. All in all, after trying this I do believe that this stood a notch above the majority of diesel/chem I still see in production today.
The onset of medicinal effects provided from The Diesel snuck up out of nowhere. Give or take, around 3/4th ways into the sesh is when I began to experience uplifting spiritual effects. I felt rather calm until about 10 minutes later, when a sudden raciness developed. Soon enough, my entire brain was encapsulated as a build up of pressure pushed directly into my eyelids. At times, this made it difficult to keep my eyes completely open. Nonetheless, I didn't feel bogged down by any stretch of the imagination and, if anything, this cultivar enhance my energy. This made it easier to focus on mind-numbing tasks as well as ones that required creative capacities. A little after 30 minutes or so, the effects did disperse down into the front portion of my body. This was complimented by butterflies in my chest that included vibrating euphoria taking over the upper portion of my body and feet.
Personally, I thought this was more than ideal for daytime use due to it adding confidence within my stride. The fact that that this enhanced my overall mood made it very easy to hold a conversation with others. Even over an hour into the onset of effects I still felt energy through my loins as a result of the raciness this cultivar produced. While the effects were smooth as butter I wasn't overly impressed by the duration in which they lasted. When it was all said and done, the cerebral qualities dissipated quicker than I imagine capping the high just under an hour and half. Despite this one gripe I did find this cultviar to be exceptional for the most point as it delivered very clean medicinal qualities.
After having a chance to try The Diesel from Hole in the Wall Cultivation, which was highly touted to me at Terptown, I was taken by surprise on this one. As I mentioned in the review, I don't think this blew my top off the way I remember smoking Sour D back in high school (even though this is a different cultivar inevitably). However, with this wave of sour coming back, this cultivar undeniably hit on some of those qualities we used to hold so dearly to us when smoking. The fresh taste of pine, sour and grapefruit to the mind-crippling raciness, made this a potential favorite to anyone chasing nostalgia. This will more than likely appeal to those who prefer gas over more modern terp profiles although I know a few connoisseurs who are going to want to get their hands on this regardless. The effects, as already noted, will hit home to those looking to crawl out of their skin. The energetic qualities this cultivar provided, as well as spark of creativity, will fit well for those going through depression or any type of mood-related illness. Additionally, this will fit perfectly if you have a project around the house you are looking to complete or even an outing with friends. Even though the genetics were claimed unknown on this cultivar, this had to be the closest experience I've had to sour diesel for quite some time now. I wanted to thank Hole in the Wall for their generosity and I look forward to seeing more work from them in the future.
Advertisements