Dab Review: Mimosa Live Rosin by Uncle Mac's
MIMOSA
Fresh Press Live Rosin
Lineage/Genetics: Clementine x Purple Punch
Original Breeder: Symbiotic Genetics
Grower/Processor: Uncle Mac's
Distributor: KOTK
Uncle Mac's Mimosa Live Rosin Review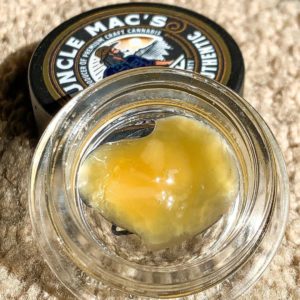 By: @Uncle_Macs
Via: @kream.of.the.krop.202
I visited the KOTK team this past weekend and was able to scoop some incredibly terpy Uncle Mac's Mimosa Live Rosin. If you haven't yet followed along, you're missing out on some 🔥 drops.
The nose on Uncle Mac's Mimosa is an absolutely intoxicating mix of tangy grapefruit, tropical punch, and sour orange candy. Likewise, each dab is bursting with a tart and citrusy, fresh-squeezed flavor.
The rosin itself takes on a cloudy and opaque, 'melting taffy' consistency that glows tuscany gold in the sunlight.
A dab of Mimosa provides an Initial, invigorating burst of hazy, unfocused energy that subtly drifts towards lethargy with each passing minute. A big time body buzz and muscle loosening effect mirrors and amplifies the inescapable transition towards a lazier cerebral effect.
#Budfinder
▂▂▂▂▂▂▂▂▂▂▂▂▂▂▂▂▂▂▂
#dcbud #420 #dcweed #stoner #marijuana #dccannabisculture #strainfinder #thc #dccannabis #puffpuffpass #dopesmoke #dmv420 #topshelf #stoner #whiteashonly #cleanmeds #i71 #rosin #unclemacs #mimosa
Advertisements