Strain Review: Jetlato by Darwin Farms
JETLATO
Lineage/Genetics: Jet Fuel OG x Gelato
Original Breeder: Unknown
Grower: Darwin Farms
Distributor: 24k Exotics
Darwin Farms Jetlato Review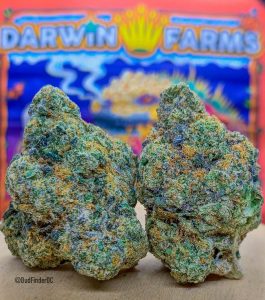 By: @darwinfarms
Via: @24k_exotics
Back with another strain on the 24k Exotics menu, this time taking a look at one of my personal favorites, Jetlato aka Jet Fuel Gelato, this cut grown by the esteemed Darwin Farms team.
Jetlato primarily takes after its Jet Fuel/SFV OG lineage in appearance, with thick buds packed into a clustered formation. The 3.5's main attractions are two thumb sized, super kiefy nugs that were dense and required some serious pull to break apart but in the end, had a nice humidity level. Both of the larger buds possess that OG forest green exterior while shades of grape, courtesy of the Gelato, literally burst from each and every opening alongside vivid honey-orange pistils.
Upon opening up Jetlato for the first time, prepare for the senses to be overwhelmed by a loud and complex nose highlighted by diesel fumes, ripe orange rind and musky lavender, cut by the aroma of a pungent, piney surface cleaner. Grinding the bud up brings out some sweeter notes. Interestingly, after handling this Jetlato, the scent that lingers on the fingers is pure Gelato.
Like it's name and nose anticipate, Jetlato has a notably sugary, super gassy and citrusy inhale, like a candy-coated, gasoline dipped lime. Two distinct notes are present on the exhale — a creamy Gelato paired with a sour and hoppy pine.
One of the better "pick me up" strains available, Jetlato swiftly sends a Sativa-like rush of euphoria and energy up through the brain and down the spine. Providing a surprising amount of creativity and focus, this blissful, swirling cerebral rush does get dreamier as the high persists. Supplementing that "wired" energy is a mellow, balanced and increasingly soothing body effect that shifts the body into autopilot and allows the user to get wrapped up in their head high.
#Budfinder
▂▂▂▂▂▂▂▂▂▂▂▂▂▂▂▂▂▂▂
#dccannabis #dcweed #cannabisculture #marijuana #cannabiscures #strainfinder #thc #strainreviews #puffpuffpass #whiteashonly #dopesmoke #topshelf #stoner #wakeandbake #whiteashgang #i71 #smokeweedeveryday #jetfuel #jetlato #darwinfarms
Advertisements