Rolling Review: Wizard Scrolls Hemp Wraps for Blunts
My new favourite blunt wraps. These are Wizard Scrolls by @rollingwiththewizard . Dude is one of my favourite cannabis YouTubers and has a great interactive presence on Instagram. He's a really nice guy doing really cool stuff in the New York and online cannabis communities.
Wizard Scrolls Hemp Wraps Review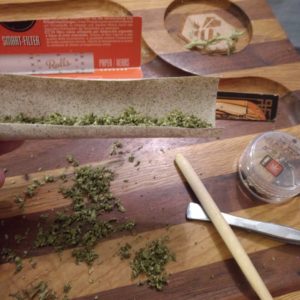 I'm stoked that the product was good, because you want cool people to make good stuff.
Had some issues with shipping, but that's a risk you take when you're dealing with smaller distributors, so support him and help him grow.
These things are honestly great. They're standard wrap sized, maybe a little bigger. They burn smooth as fuck, but the thing I like the most is that they have a glue strip. I have so much trouble using just saliva to get wraps to stick, and nobody wants a deepthroated blunt, so adding a glue strip is a great idea. These are gonna replace all other hemp wraps in my supply cabinet.
Buy these from his website and bug your local headshop to have their distributors start selling these and @junglewrapz. Let's make Backwoods go the way of Phillies and make hemp the new standard.
#fucktobacco
.
.
.
#bluntculture #areyourollingwiththewizard #bluntporn #rollwitheachother #rollup #hempwraps #wizardscrolls #rollingloud #rollingpapers #highsociety #blunt #rollwithme #cannabiscommunity #weedstagram420 #justblazeig #weshouldsmoke #higherthanmost #wedontsmokethesame
Advertisements