Strain Review: Animal Face by Carmel
🧡 Carmel's Animal Face is a stunning example of everything that craft cannabis in Ontario can be. First showing up a couple months ago, along with their Garlic Breath and Drew's Dark Helmet, it quickly gained notoriety not only for its always impressive THC count (my current pack is at 26.78%) but unique and abundant terpene profile, amazing effects, and all the standards Carmel keeps in order to put out the best product possible.
Lineage/Genetics: Face Off OG x Animal Mints
Original Breeder: Seed Junky Genetics
Grower: Carmel
Carmel Animal Face Review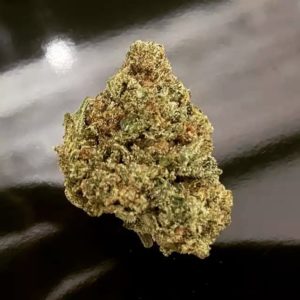 I am going to try to briefly list these standards because there are a bunch. First, they source amazing genetics, the Animal Face being bred by the long renowned Seed Junky Genetics out of California. Next, they only grow in small batches, both allowing them to be more responsive to the needs of each plant and ensuring a recent packaged date. They state on their site, "Our brand appeal will always be rooted in our bag appeal" and it shows with them hang drying and hand trimming. And last, in keeping with their craft status they have a strong commitment to the TERPS. They use natural light, cold cure for two weeks, and nitro pack all their bud. They also put out their cut of Dark Helmet on the insistence of their master grower Drew, despite the >20% THC because of the cut's phenomenal terp count and taste.
Now the Animal Face has impressive terpene counts as well, typically testing around 3-5% (my current pack is at 4.32%, I know because they were one of the first on OCS to start testing each lot and putting those numbers on the bag). Carmel selected their pheno to be high in limonene and low in caryophylene. Despite the strain's heavier indica genetics and typical profile, Carmel's version is very up. It was the perfect smoke for 420 letting me stay appropriately blasted all day without feeling tired. If you want the hardest hitting bud that has a boost, If you are meeting that friend that is convinced sativas cannot slap, If you are just looking to smoke some premo and start racing, this is the flower for you. 🐇💥🐇
Also look at that last pic of Master Grower Drew and tell me you don't want him growing your bud 😂
🐶 Thanks to @andrew.bodyandspirit and his bud Kush for the pic!
Hey my name is Sean out of Body and Spirit Cannabis, a fully independent licensed bud store at Yonge and Dundas in Toronto. Super sensitive to strain differences, I like to keep a bunch on hand for exactly what I want or need to feel. The alternative is my day is ruined or I don't get to smoke! Be sure to check me out @sean.bodyandspirit for a full list of reviews and stop by the store to say hi and check out the new drops we're smoking!