Strain Review: Bacio Gelato by SHERBINSKIS
Bacio Gelato by sherbinskis the gelato creator.
Lineage: Sunset Sherbert x Thin Mint Cookies
Original Breeder/Grower: Sherbinskis
Dispensary: Berner's Merced
Bacio Gelato Strain Review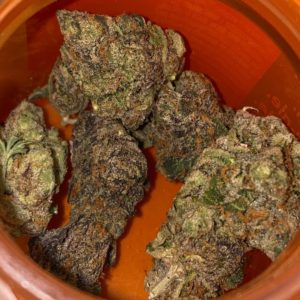 10/10
This one is definitely one of those classic gelato smokes u need to try if you haven't. Quite surprised since this batch was so much more fresh then the Açaí which was harvested around the Same time.
Buds were much softer and smell amazing with the sweet earthy gelato tone. Some nugs were way more colorful then others but for the structure they were similar with a more circular bottom and tips at top that grow out in different directions and some with just a tip.
Smoke was very smooth with that classic sweet gelato taste accompanied by the earthy flavor.
For the high it melted me away from my feet to my head I would say this could be used for the perfect night cap but if your a indica smoker like me it's the right one to get your day started.
#sherbinskis #baciogelato #cookiesorbetter #420 #710community #bernersmerced
Advertisements