Strain Review: Bandwagon Blue Dream by Homestead
🫐 Homestead – Bandwagon Blue Dream
Lineage/Genetics: Blueberry x Haze
Original Breeder: Unknown
Terpene Dominance: Myrcene Dominant
Grower: Homestead Supply Co.
Bandwagon Blue Dream Review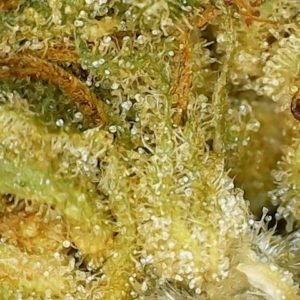 So here is one of those bags that's just plain ol a good deal. Being both owned by Rubicon, Homestead's Blue Dream is Simply Bare's Blue Dream when it tests below it's 18% minimum THC count. And at 17.5% I am more than happy to pick this stuff up at under $5 a g
Open the bag and the aroma that spills out is sure to convince anyone who wasn't already part of the sesh, to join on in 🧑🏽‍💼🧑🏽‍🎤🧓🏽. Wondrously sweet with notes of pomegranate and raspberry to round it out, it tastes like candy. I used it in every joint over my Thanksgiving weekend, letting me extend the life of some more premium stuff, while adding a delectability that's always welcome
The rest of the bag appeal also looked great, and is especially amazing among the other ounces on OCS. It looks like they used a tumbler instead of hand trimming, as evidenced by the rounded nug peaks and some smaller pieces. However at this price that's expected and looking at the micro pics there do not seem to be many damaged trichomes inside. This may be due to the density 🪖 which is not only great for protecting terps and flavor but protecting those trich heads
As for effects this is exactly how Blue Dream should be. From the first there are all the body effects normally associated with heavier indicas. Tension, anxiety, and shoulders drop immediately. There's a feeling behind the eyes, though not a pressure, more like an excuse to rest them for a bit, but only if you're so inclined because there's no sleepiness. And unlike many cuts of this oft-tweaked strain, there is no uplift either, missing the normally higher levels of limonene. The result is a very even high, giving a profound sense of calm, without any buzzing or rapid thoughts ☮️
Homestead's Bandwagon Blue Dream is one that I will be keeping on hand ALWAYS. I cannot think of a better bud for those afraid of the negative effects of THC but still wanting a nice high and an even nicer smoke. From the smoothness to the taste to the unintimidating effects this was perfect for the fam on Thanksgiving. And next time some weed ends up tasting like grandpa's big toe I now have a way to save it! 👃🏽🤩💨👅☺️
#ocs #ontariocannabisstore #ontariocannabisstorereviews #legalweed #cannabisreview #weedreview #cannabiscommunity #cannabisculture #stoner #weed #cannabis #thc #budtender #budtenderreviews #420 #terpenes #420community #420daily #craftcannabiscanada #canadiancraftcannabis #canadianweed #canadiangrown #nugshot #budporn #weedporn #dank #simplybare #homesteadcannabissupply #bluedream
Hey my name is Sean out of Body and Spirit Cannabis, a fully independent licensed bud store at Yonge and Dundas in Toronto. Super sensitive to strain differences, I like to keep a bunch on hand for exactly what I want or need to feel. The alternative is my day is ruined or I don't get to smoke! Be sure to check me out @sean.bodyandspirit for a full list of reviews and stop by the store to say hi and check out the new drops we're smoking!
Advertisements