Strain Review: Ruxton (Sour OG) by Broken Coast
🧑🏽‍🍳 Broken Coast – Ruxton
Lineage/Genetics: OG Kush x Sour Diesel
Original Breeder: The Cali Connection
Grower: Broken Coast Cannabis
Ruxton (Sour OG) Strain Review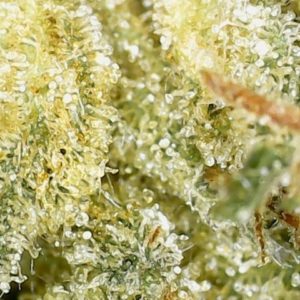 What do I say? It's a must try. There's no comparing this amazing bud that is so unique and the perfect example of Broken Coast at their finest.
Technically this is Sour OG, and we see that on the new bottles as Broken Coast switches from LP names back to the proper legacy ones. But this iteration will always be Ruxton to me. Just like Sour OG should, it is dominated by the classic combo of limonene 🍋 rounded out largely by caryophyllene ⛽, which presents not as Lysol like in Sour Diesel or the spice in Animal Face, but as a sweet key lime. There is no conflicting undernote as the two terps come together to create something one and whole.
However Broken Coast has taken this bud and made it their own in a way that only an LP who truly cares can. Despite a super loose bud structure they manage to keep these large buds whole during their impeccable trim and processing 🙌🏽. No shakey hands here. And then the standout bit. Dollars to donuts this is the stickiest weed you will ever smoke that still burns white. With a cure that prioritizes taste, Broken Coast has produced something that simply smacks with lime-y goodness 😋.
As for the high it very much follows it's lead terps. Incredible euphoria with a surge in energy 🤪, coupled with a stoniness that makes everything just a little easier 🤤. There is no real crash as long as you have a higher tolerance, and especially if you keep smoking to refresh the high. It's a great alcohol replacement in the evening, or amazing for a day off wake n bake. Hell the combo is even what many are looking for to work out or do chores. Mindless energy 🐇.
Overall, Ruxton really is a must try if you haven't yet. Not a great option to go to sleep but trying it even once will show how we haven't begun to push this wonderful plant to it's limits 🧬. Broken Coast please continue your amazing pheno hunting and unparalleled focus on flavour! 🍋⛽🦎🦎❄️
#ocs #ontariocannabisstore #ontariocannabisstorereviews #legalweed #legalcannabis #cannabisreview #weedreview #cannabiscommunity #cannabisculture #stoner #cannabis #thc #budtender #budtenderreviews #420 #terpenes #420community #420daily #craftcannabiscanada #canadiancraftcannabis #canadianweed #canadiangrown #nugshot #budporn #weedporn #dank #brokencoast #wegrowwoah #ruxton #sourog
@brokencoast.ca 🔥🔥🌱 #woah
Hey my name is Sean out of Body and Spirit Cannabis, a fully independent licensed bud store at Yonge and Dundas in Toronto. Super sensitive to strain differences, I like to keep a bunch on hand for exactly what I want or need to feel. The alternative is my day is ruined or I don't get to smoke! Be sure to check me out @sean.bodyandspirit for a full list of reviews and stop by the store to say hi and check out the new drops we're smoking!
Advertisements