Strain Review: Berry Strudel by Kent Valley Farms
Berry Strudel / 🫐🫓
Lineage/Genetics: (Berry Split x Sunset Strudel)
Original Breeder/Grower: Kent Valley Farms
Terpene Profile: Unknown
Berry Strudel Cannabis Cultivar (Strain) Review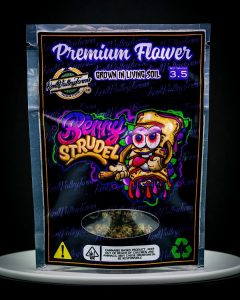 Good afternoon to all you beautiful stoners out there! I hope you all had a great weekend and that your week is off to a good start 😊 Today we have a rather popular local strain that we've tried and enjoyed here before – 'Berry Strudel'. This lovely Indica-dominant hybrid bred and grown by the talented folks at Kent Valley Farms is essentially a separate phenotype of the well-loved 'Kent Valley Kush'.
This strain however leans less toward those familiar Kush terps that are obviously prominent in the KVK and more in the direction of the general 'Berry Split' terps instead. The aroma from this strain definitely still shows off some hints of woody pine and gas, however notes of berries with Earthy, almost herbal characteristics come through more clearly in the mix.
As for the flavour, this seemed to be a rather straightforward continuation on from the general aroma – lots of herbaceous Earthiness with light touches of sweet berries and a slight hint of piney gas on the aftertaste. This was a great example of how you would expect a strain like this to turn out being that it was grown organically in living soil. This allows for an overall smooth, tasty, clean-burning smoke that will not disappoint the most discerning of palates 🤌🏻
The effects of this strain were pretty indicative of a strong hybrid; initially gave me a rather hazey cerebral sensation that gradually evolved into a rather relaxing body high. I didn't find myself in a heavy state of couch-lock, however I didn't attempt to go about doing many tasks due to the foggy head high I was getting from this stuff. Just like before, this was a delight to have in to enjoy again – it's clear that good genetics like this from hardworking growers like Kent Valley Farms always impress! 👌🏻🔥
.
.
.
.
.
#berrystrudel #strain #bud #cannabis #weed #thc #cannabiscommunity #trichomes #cannabisculture #420 #weedstagram420 #cannabisphotography #420daily #weedpics #weedporn #uktopshelf #premiumflower #instaweed #cannagram #macroweed #thebudstudio #hightimes #nugmag #cannabisnow #whiteashgang #weedworldmagazine #hightimesmagazine #skunkmagazine zine #leafly
Advertisements