Strain Review: Britscotti by Dank of England
Britscotti / 🥜🍪
Lineage/Genetics: (Gelato 25 x GSC x South Florida OG)
Original Breeder: Cookies Fam Genetics
Grower: Dank of England
Terpene Profile: Unknown
Britscotti Cannabis Cultivar (Strain) Review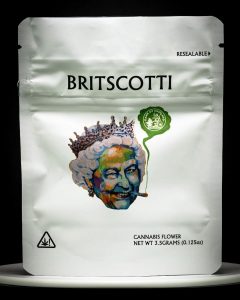 Good afternoon to all you lovely people out there! I hope you're all staying blessed and baked ✌🏻 Today we have a strain that's been on a lot of people's radars lately, and one that became one of my favourite smokes of last year; 'Britscotti'. Considering it's Thursday I figured it was only right we did a throwback post for this pack of goodness I managed to cop last year.
This potent Indica-dominant hybrid (originally bred by @cookiesenterprises co-founders @berner415 and 'Jigga') was grown by the boys in Barcelona; @dankofengland 🇬🇧 The flavour I got from this strain was very tasty and incredibly moreish – pushing this strain to the top of my list of 2021. When I opened the (brilliantly designed) bag I got a waft of sweet, buttery biscuits and a hint of lemon zest – a pretty unique and intriguing combination!
When I went to take a dry pull before sparking it up I got an Earthiness on the palate that had a quality to it that was reminiscent of a cup of espresso. This also bore some slightly nutty notes that developed in flavour as I lit her up and happily toked away. A few tokes in and I started to taste that same sweet buttery biscuit profile with a squeeze of lemon juice that delivered a very moreish sweet'n'sour effect that blended wonderfully.
The effects came on quickly starting off with a light cerebral buzz that lifted my mood and left me feeling rather carefree. This eventually led to a tingly wave of relaxation that washed over me, leaving me feeling calm and happy. This was a great one to enjoy after a long day, but one that wouldn't bring about that feeling of couch-lock, so you could still go about getting things done or just socialising; a perfectly balanced high! 👌🏻
All in all, I thoroughly enjoyed this strain, it was definitely one of the more memorable and well done takes on the 'Biscotti' genetics that I've personally found. Not to mention an all-round great first impression of what the @dankofengland can produce! If you haven't tried this stuff yet then I highly recommend you do – I look forward to whatever strain from these guys I can get my hands on next 🙌🏻
#britscotti #strain #doe #dankofengland #ripblacktheripper #bud #cannabis #weed #thc #cannabiscommunity #trichomes #cannabisculture #420 #weedstagram420 #cannabisphotography #420daily #weedpics #weedporn #premiumflower #instaweed #cannagram #macroweed #nugmag #whiteashgang #weedworldmagazine #hightimesmagazine #skunkmagazine #leafly
#macrocannabisphotography #thebudstudio