Strain Review: Boba Matcha by The TEN co
Boba Matcha / 🧋🟢
Lineage/Genetics: (OZK x Biscotti x Sunset Sherbet)
Original Breeder/Grower: The TEN co
Terpene Profile: Unknown
Boba Matcha Cannabis Cultivar (Strain) Review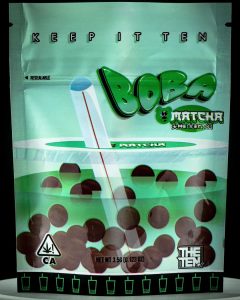 Good afternoon to all you beautiful people out there! I hope everyone enjoyed their weekend and that your week is off to a good start ✌🏻 Today we have a strain that, like its counterparts, picked up a good amount of traction last year across the Atlantic – 'Boba Matcha'. Produced by the ever creative folks at @theten.co – the strains that make up the Boba lineup (Blue, Strawberry, Milky & Matcha) are allegedly all different phenotypes of the same genetics.
Rumour has it online that each strain of the Boba family highlights a particular blend of terps, differing slightly from one to the other. Some are more dominant in ways of the Biscotti terps, and others more dominant in the OZK terps etc… This particular batch that I copped towards the end of last year definitely gave off a lot of Sunset Sherbet terps as I remember. I was getting a lot of generally sweet terps out the bag initially; they had a broad range of notes to them, however none that I could precisely put my finger on 🤔
With so many flavourful and unique genetics at play in this strain, it's no surprise I found it difficult narrowing them down on the nose. There was an underlying slight musky, Earthy funk that was sitting beneath all these sweeter notes I was getting – creating a good amount of depth and character to it all. As I broke apart the almost unbelievably dark purple nugs, I started to get more of the Sherbet notes kicking in and taking over the mix.
After taking a dry pull, I felt my palate get almost overwhelmed with the general sweetness of the terps, still providing a mainly Sherbet-dominant character. As I sparked up and took a few tokes of this delicious concoction I started to notice some mild hints of that same musky funk I got on the nose lingering in the background. As the joint burned along nicely, producing nice clean, white ash, I began to pick apart that sightly muddled blend of sweet notes a bit more 🍬
What I got, mostly, was a flavour similar to the sweetness of OZK (accounting for those unmistakable, hella-flavourful Zkittlez terps) with an ever so slightly nutty edge – perhaps coming from those Biscotti terps. Either way, the flavour and aroma of this flower were certainly intriguing in their complexity! The effects of this strain were seemingly head-high heavy – I felt a fair amount of pressure behind the eyes and a decent cerebral buzz come on quickly.
I was able to maintain my composure and get things done about the day with a bit of a foggy haze to my perception, but not enough to put me down on the sofa. I felt a nice, warm wave of relaxation rush over me while the cerebral buzz continued to keep me only slightly dazed with a touch of euphoria. All in all, I thoroughly enjoyed having this strain in; it was a real shift from the more purebred flavours I've had in the last year, and expressed itself and its flavours beautifully and interestingly all the same 👌🏻🔥
🌱 @theten.co @_thetenco 🔌 @raintreez
#bobamatcha #bobastrain #keepitten #thetenco #howwhiteisyourash #bud #cannabis #weed #thc #cannabiscommunity #trichomes #cannabisculture #420 #weedstagram420 #cannabisphotography #420daily #weedpics #weedporn #premiumflower #instaweed #cannagram #macroweed #nugmag #whiteashgang #weedworldmagazine #hightimesmagazine #skunkmagazine #leafly
#macrocannabisphotography #thebudstudio