Strain Review: Zoy by THE TENco
Zoy (Vol. 3) / 🌈🍦 (Zkittlez x Gelato 41)
Lineage/Genetics: Zkittlez x Gelato 41
Original Breeder: THE TENco
Grower: THE TENco
Zoy Cannabis Cultivar (Strain) Review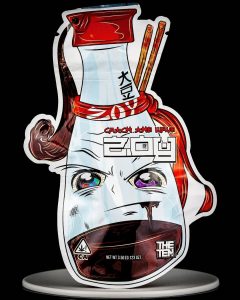 Good afternoon and a very happy Friday-Highday to all you lovely people out there! Today we have one of my favourite strains to come from @theten.co – 'Zoy'. Part of their Japanese culinary inspired Zushi line-up – this slightly Indica-dominant hybrid boasts some of the best characteristics you could expect to find in either of its legendary parents genetics.
This particular batch of Zoy I had actually copped towards the end of last year (2021)…so I apologise I've taken so long getting around to posting this review! Straight out of the (very cleverly designed) bag I was picking up some strong but smooth notes of sweet lemons and gas. After taking a few deeper inhales from the bag I started to find some of the more Sunset Sherbet-type notes lingering in the aroma alongside the fruitier Zkittlez ones.
The combination of Zkittlez and Gelato terps is a winner for me, as well as many of you I'm sure; being that they're two of my favourite strains of all time! The idea of crossing these two legends to produce this strain (also known as Runtz outside of the Zushi cultivar) was one that I had to get in on when I first heard about it. After having tried this strain in both its Vol. 2 and 3 iterations, I must say they certainly did not let down the hype or expectations! 👏🏻
After rolling some of this up and taking a few dry pulls, the still prominent notes of gas, lemons and sweet Gelato were the most noticeable on my palate. This was a simply delicious indication of what was yet to come… After sparking her up I took a few long tokes to find that there was a slight change in the overall flavour I was getting. What had originally been a more defined combination of lemon, gas and cream, eventually progressed into a blend of the more nutty Gelato characteristics, alongside the broader Zkittlez notes as well 🌈
This was definitely more noticeable with the contrast of the flavour upon inhale and exhale – the inhale giving me the sharper and sweeter notes and the exhale more so giving me the gassy, nutty ones.
I personally found this to be an incredibly moreish flavour profile, one my favourites to date in fact. You can definitely taste and enjoy the instantly recognisable and unique Zkittlez terps in this strain, but it's wrapped up brilliantly in this soft, sweet and creamy blanket of Gelato terps; rounding it all off brilliantly in my opinion 👌🏻
The effects of this strain weren't necessarily the strongest I had experienced from the Zushi line-up of strains. However, what this strain may lack in overall strength it certainly makes up for in its sheer perfect balance of effects. The reputable heavy body high that you'd expect to get from the Gelato 41 genetics combine fantastically with the more head-based high from the Zkittlez. This left me with an initial release of energy and boost in my general mood, leaving me feeling sociable and happy.
As a bit of time passed, I started to feel a steady cerebral buzz blend together comfortably with a relaxing body high. The more body-focused effects didn't necessarily leave me feeling 'stoned', but certainly in the mood to kick back and take things easy. I'd say the general effects of this strain are erfect as a daytime treat, especially if you're gathering with others for a session. Overall, I was taken aback with just how delicious and easy this stuff was to smoke – enjoyable every step of the way 🤌🏻
This particular strain is not just one of my personal favourites from the Zushi line-up, but from @theten.co in general 🙌🏻 The deliciously moreish flavour and aroma, not to mention perfectly balanced effects, make this a clear winner for me all the way. As much as the Blue and Yellow Zushi phenos from these guys take the spotlight for many individuals, and for good reason; it's fair to say that you can't have Zushi without Zoy 😉
🔌 @rain_treez 🌱 @theten.co @_z_u_s_h_i @_thetenco #thetenco #zoy #strain #keepitten #zushi #howwhiteisyourash #macrophotography #cannabis #weed #thc #cannabiscommunity #trichomes #cannabisculture #420 #weedstagram420 #cannabisphotography #weedpics #weedporn #premiumflower #instaweed #nugshot #macroweed #nugmag #whiteashgang #weedworldmagazine #hightimesmagazine #skunkmagazine #leafly
#macrocannabisphotography #thebudstudio
Advertisements