Strain Review: Carbon Fiber by Diamond Fire
@diamondfireca – Carbon Fiber 👍🏽👍🏽💨 pheno 19
Media: Rockwool
Lineage/Genetics: Grape Pie x Cookies N Cream x Biscotti
Bred by: Cannarado Genetics @reallycannarado
Grower: Diamond Fire
Terpene Profile: Unknown
Diamond Fire Carbon Fiber #19 Cannabis Cultivar (Strain) Review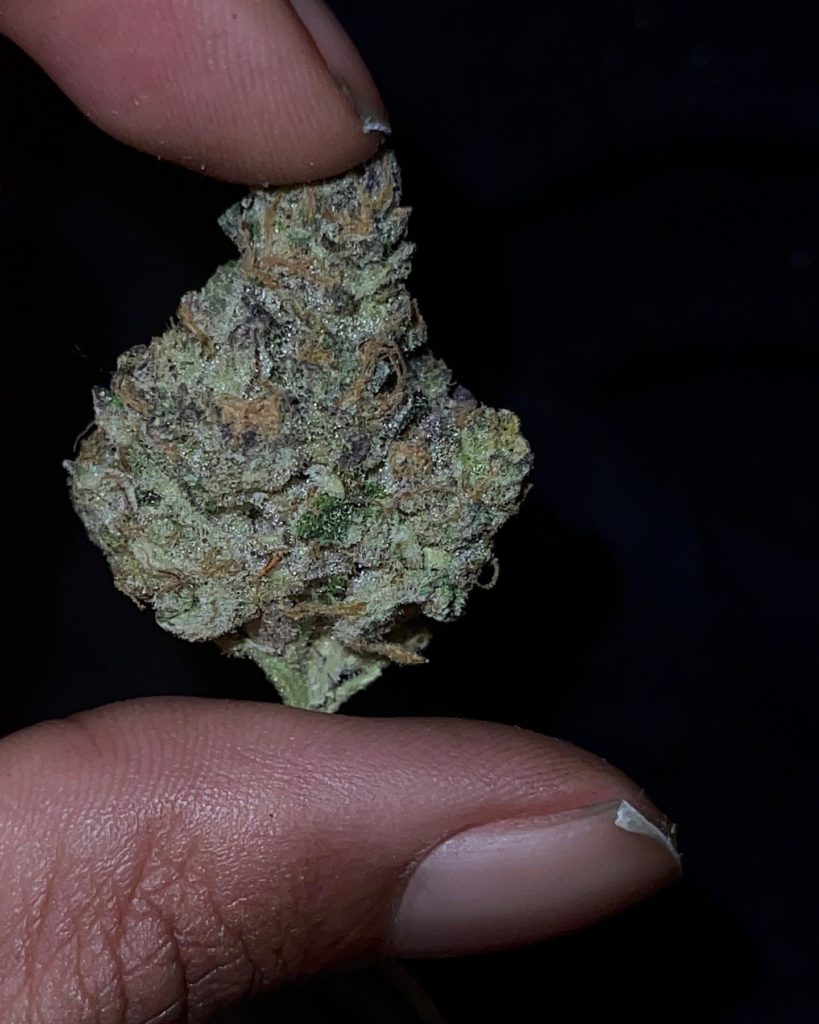 Bag Appeal: The bag appeal was amazing and the trim job was great . Frosty dank nugs . Fresh flower.
Aroma: Fuel , Gassy , Propane . Strong on the pungent side but when breaking her down it's straight propane . I can keep my nose in this Bag forever . Smells like someone threw gasoline on the buds ! Bring back memories smelling It left a propane flavor on my palate !
Dry Pull: hazelnut, Propane ⛽️
Flavor / Ash / Smoke Report: The flavor onCarbon Fiber is propane on the inhale. (Terps with power) that what I'm looking for a strike with terps ! On the Exhale is gassy . Ring with resin on the spliff ! Crazy flavors. Carbon Fiber by @diamondfireca is dripping crazy right now ! Strike with flavor got me coughing. Definitely amazing batch first time having @diamondfireca. Y'all kill it with this one . Propane on exhale & slightly hazelnut on backend. Smooth on inhale no harshness on backend . Great smoke experience. Also packs a punch 🥊 to the lungs . It hugs the lungs stay and the ash is grey with slightly white ash
Effects: While hitting the Carbon Fiber the effects was very strong. A strong & intense high to start the day . It's does give me a couch lock effects. The high was amazing on the Carbon Fiber . Had a crazy ring with a resin ring around the spliff .
I fell asleep sleep off the Carbon fiber ! I see where the propane flavor comes from the grape pie . Grape pie got cherry pie and grape stomper cross to make grape pie . Giving it that propane flavors . Carbon Fiber is for all my gassy flavor smokers and couch lock smokers . You don't like being couch lock high this ain't for you . Forehead sweating though out the session.
Gifted by @zahzahmane_dmv
More down below 👇🏽 in the comments
Overall: I like Carbon Fiber so much I had to get more for a review ! The bag appeal was top tier . The ash was okay 👌🏾. The flavor was there the potency was there and lung expansion also was there . Overall I really like this one . Makes me want to try other strains from @diamondfireca . I think if you a gassy propane flavor smoker this one is for you no fruit or candy in this pheno . Just straight pressure
Carbon Fiber Review by BCCaliBudReviews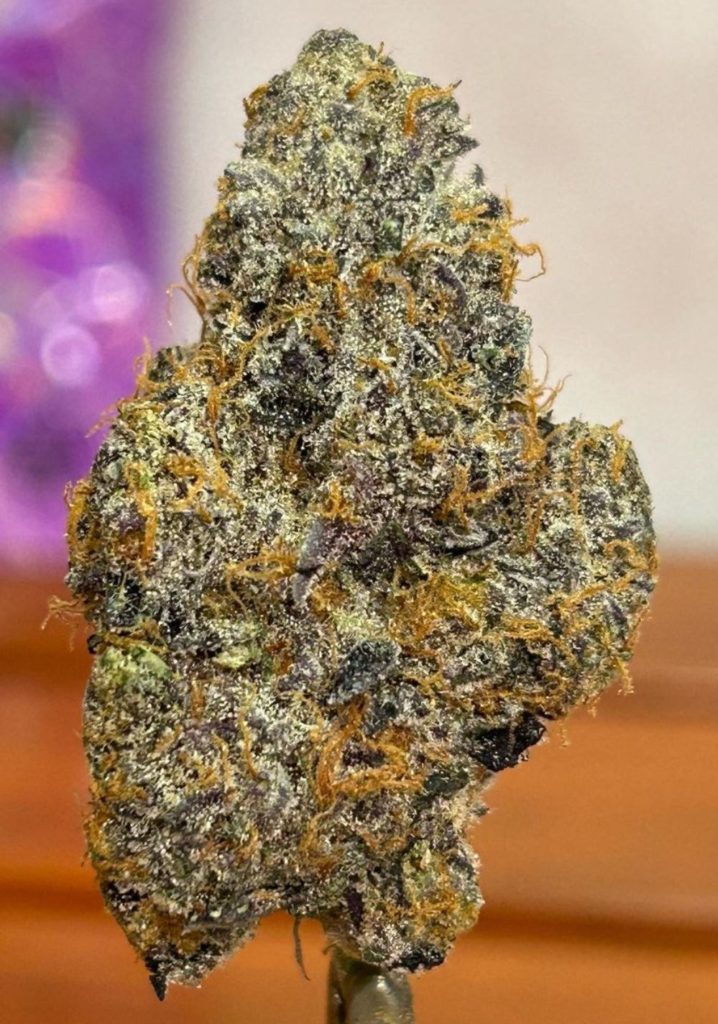 Carbon Fiber @diamondfire.ca
Strain Review
Alrighty guys here we have an eighth sample of carbon fiber for review, generously made possible by @sddankexclusive16 🙏.
Appeal: 86/100
Deep purple & dark green nugs w/ light orange medium length pistils, & a chrome colored trichome layer w/ the inner trichomes visible w/ their intact medium sized heads. This strain definitely takes after the biscotti here. The nugs are tall stretching, semi chunky, w/ partial foxtail builds, the mylar has indeed caused a lil bit of funky shaping, & pressed the outer trichome layer a tad bit. The nugs are dense & thick but seem light, airy and crisp, maybe a little dried out with a tiny touch of a brittleness on the outsides, Possibly aged. The inners reveal a thicker trichome layer, well intact, and the pistils exposed shows more length. The inners have some moisture retained, semi-resinous but still pretty crisp.
Aroma: 81/100
Cookie, dough, chocolate, cracker, pie crust, vanilla cream, with a touch a dough-mint-pine. There's a touch of fruityness underneath, and breaking the nug reveals its a grape fruityness, w/ a barley-hops-soy-veggie layer, and a pinesol cleaner. Touch of pungent fuel to the break up. Those cookies and cream terps are mostly what's noticeable. The rest hides underneath a bit.
Smoke Cleanliness: 88/100 Ash: 85/100 Flavor: 80/100 Translation: 88/100
Started off with a white ash base with some grey, a lil pepper, & a fat drip. The taste were mostly all cookies, doughs, chocolate herbals and some pinesol cleaner fuel. Hint of grape cream & Veggie funk. As the burn progressed the outer pepper increased a bit but The smoke stayed mostly pleasant, but slightly increasing in bite when the pepper started increasing.The drip was present to the ending, pretty good smoke overall, with solid translations, although the doughy profile isn't my favorite preference.
Effects 82/100 Potency 80/100
Relaxing, medium strength buzz in the body and mind. Stoney and calming, 2hr buzz
Overall: 83.5/100
It's standard top shelf, the flame-2-ticket ratio is excellent tho. its a good & satisfying box checker.
#calibudreviews #strainreview #diamondfire #sddankexclusive
Advertisements