Strain Review: Chemhünd from MÜV Florida
Chemhünd from @muv.fl was meh.
Lineage/Genetics: Dogbud aka Chemdog
Original Breeder: Chemdog (the man)
Grower: MÜV Florida
Dispensary: MÜV Florida
Chemhünd Strain Review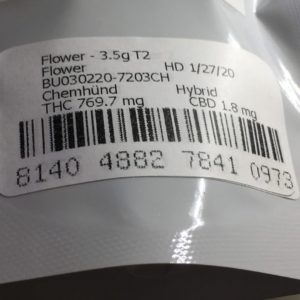 The crumble of it was good and helped my anxiety and fatigue, but I hadn't gotten that in over 6 months so when I saw the flower available, I got some. The smell was not there. The medicating effects were there, but not strong enough. Virtually no taste and what taste was there wasn't very pleasant.
After about 5 bowls of attempting to give this one a chance, I ended up throwing the rest into a couple hemp wraps and smoked it up in a day. I don't hate Müv. Some of their stuff I enjoyed like the Gogi Margy, GG4, and Sour Jack flower as well as their rosin.
I just don't know what's up with this one; if it's like Müv's version of Chemdog, but it certainly doesn't pay homage or do justice to the real deal so I only go to One Plant to get The D🔥
This was just a miss more than a hit🤷‍♂️
THC: 21.99%
CBD: 0.0005%
#indicadam #southflorida #cannabiscommunity #flmedicalmarijuana #floridamedicalmarijuana #legalcannabis #cannabis #strainreview #floridacannabiscommunity #flmmj #nugshot #medicalmarijuana #floridacannabiscoalition #floridacannabis #thc #mmjpatient #mmj #terps #terpenes #medicate #medicine #muvfl #sativa #indica #hybrid #chemhund #flower
FL mmj patient
Cannabis advocate cataloging strains available to patients in beautiful Florida
Nothing for sale
18+ page only