Strain Review: Cherry Cream Pie by Virgin Cannabis
The Cherry Cream Pie from @virgincannabis is one of those little hidden gems that you don't run into if you aren't willing to buy outside of your usual brands. I find that the way to get the best value from @tetra.pdx is to be willing to just go with something pretty on a whim and trust you'll be happy with it.
Lineage/Genetics: Cherry Pie x Cookies and Cream
Indica or Sativa: Indica dominant Hybrid
Original Breeder: Exotic Genetix
Grower: Virgin Cannabis
Dispensary: Tetra Cannabis
Cherry Cream Pie Strain Review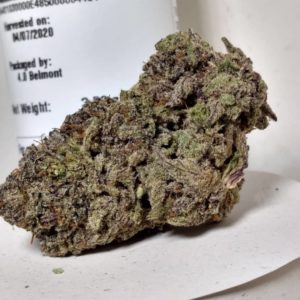 If you need something to compare this to, I'd call it similar to the Juice Boxxx I reviewed recently. It provides a euphoric, creative relaxation that slows the mind down pleasantly. Surprisingly stoney and potent, this is gonna be better suited for the end of the day when your responsibilities are taken care of.
When it comes to smell, it's your standard dark fruit/berry and sweetened dough. Nothing surprising or unique, but pleasant nonetheless. This may not be for the flavor chasers, it's more of a daily driver that won't empty your wallet.
This is one that I wouldn't necessarily go out of my way to find, but I'm gonna be happy when it pops up again. This an the MAC 1 I did recently are examples of why I frequent @tetra.pdx. ~$25 an eighth as a medical patient in the neighborhood, and both were surprisingly good. That's why I recommend them to anybody local.
.
.
.
#thehighestcritic #strainreview #strainreviews #weedreviews #420review #portlandcannabis #OMMP #portlandweedreviews #mmj #oregoncannabiscommunity #portlandweedreviews #portlandcannabiscommunity #oregonweedreviews #Medicate #oregoncannabis #mmjpatient #medicalmarijuana #pnwstoners #pdxcannabiscommunity #cannabisreviews #pdxcannabis #cannabiscommunity