Strain Review: Juice Boxxx by Fox Hollow Flora
In the words of Ricky Bobby: "If you don't smoke Juice Boxxx from @foxhollowflora, then fuck you."
This Juice Box stuff is an underrated gem in our town. I tried it at @oregonsfinest about a year ago, so you best believe I jumped all over it when I saw it at @oregrownindustries.
Lineage/Genetics: Cookies & Cream x Purple Sauce
Original Breeder: Exclusive Seeds
Grower: Fox Hollow Flora
Terpene Profile: Unknown
Dispensary: Oregrown
Juice Boxxx Cannabis Cultivar (Strain) Review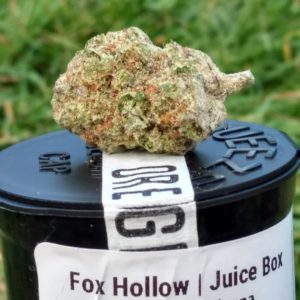 I've had several batches of this stuff, and the effects have varied slightly between each iteration. The level of stoniness and overall weight of the high has varied, but what has stayed consistent is the creative euphoria that follows the second drag off this stuff. It's a happy, giggly feeling that is equally well served keeping my girlfriend focused and relaxed while doing art or chilling at the end of the day, trying to keep that barrier between the business of the day and your home life.
The smell is one for fruit lovers. It has an amalgamated fruit scent that resembles a Fruit Roll-Up with what my friend at Oregrown described as "movie theater feet" underneath. Finally a fruit scent that's actually unique.
This farm is one of the ones that the insiders in Portland will tell you about. They're not necessarily the first one on the shelves, but people who know them love them. I'm one of those people, and I would happily recommend them to anyone. Oregrown carries unique farms like them, so check them out as well.
.
.
.
#thehighestcritic #foxhollowflora #strainreview #strainreviews #weedreviews #420review #portlandcannabis #OMMP #portlandweedreviews #mmj #oregoncannabiscommunity #portlandcannabiscommunity #oregonweedreviews #Medicate #oregoncannabis #mmjpatient #medicalmarijuana #pnwstoners #pdxstoners #flavorchaser #cannabisreviews #pdxcannabiscommunity #cannabiscommunity
Juice Boxxx Review Pt 2
I'm just gonna rip the Band-Aid off here. This batch (relevant info on final slide) of Juice Boxxx from @foxhollowflora was not up to their usual quality. I'm not trying to take a shot here. Fox Hollow has been, and continues to be, one of my favorite farms in the state. In fact, Juice Boxxx is specifically my favorite hidden gem to look out for. The people that try it love it, but it's still a new one to most people I talk to.
The first thing that stuck out to me is the smell. Normally it has this combination of must and fruitiness that I describe as "Fruit roll ups and movie theater feet". This batch doesn't have those. It's a lot grassier. Generally "green" smelling, if you know what I mean.
The bag appeal is off the charts, which is unusual from my experience. Like, 9/10, but it's usually more like 6. That doesn't really mean anything, I just kinda feel like it's worth noting.
The high is enjoyable and level, as usual. Look, it's not bad weed. I'd give it like a 6 out of 10. But that's not what it usually is. Normally it's a 9 for me. Fox Hollow is a really consistent, really great farm that I wholeheartedly recommend you try, and Juice Boxxx is their best offering in my book. This specific batch isn't up to snuff, so I suggest you do what I'm gonna do and wait for the next one. I have faith it'll come right back. I get their stuff at @oregrownindustries, but support anywhere with a good enough buyer to carry their flower.