Strain Review: Cherry Pie by Evans Creek Farms
This Cherry Pie from Oregrown is absolutely fantastic. @evans_creek_farms does such a good job with everything, but their latest batches of MAC 1 and this Cherry Pie have been outstanding.
Lineage/Genetics: Granddaddy Purple x Durban Poison
Original Breeder: Flavour Chasers
Grower: Evans Creek Farms
Dispensary: Oregrown
Cherry Pie Strain Review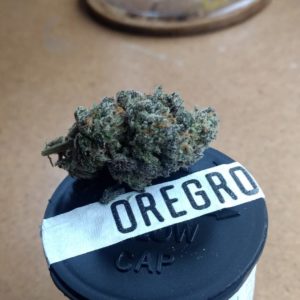 There's a reason they're the very top price tier at @oregrowninc, and it's worth every penny.
My pictures don't do justice to the beauty of these nugs. Cherry Pie phenos seem to vary a lot, but this one had so much purple that the nugs looked blue.
The flavour is really strong. A lot of red berry and cherry with raw dough and white sugar underneath.
If you see anything by @evans_creek_farms, buy it. You won't regret it.
Hit up @oregrowninc too. I don't have a single negative thing to say about them.
.
.
.
#thehighestcritic #strainreview #cherrypie #strainreviews #weedreviews #cannabisreviews #portlandweedreviews #portlandcannabis #OMMP #pdxcannabiscommunity #portlandweed #pdxweed #portlandcannabiscommunity #medicalmarijuana #mmj #oregonweed #highsociety #oregonweedreviews #oregoncannabiscommunity #Medicate #flavourgameinsane #wedontsmokethesame
Advertisements