Strain Review: Deadhead OG by Tao Gardens
Deadhead OG is one of those strains that I kinda thought I would only see as a teenager who just discovered Leafly. Like, it was popular on there, but I had never seen it personally.
Lineage/Genetics: Chemdawg 91 x SFV OG
Original Breeder: Cali Connection Seeds (Skunk VA)
Grower: Tao Gardens
Dispensary: Oregrown
Deadhead OG Strain Review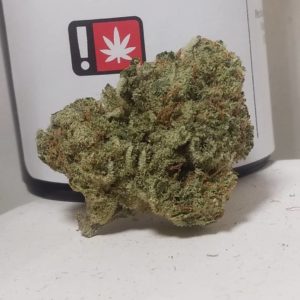 This batch from @taogardens came highly recommended from one of my favorite budtenders at @thc.pdx, so I had to give it a try. Unfortunately, I liked it a bit too much and lost my notes. I was stoked to see some at @oregrownindustries, and jumped all over it for round 2.
I've been liking my OGs lately, and this didn't disappoint. It had the piney, subtle gas notes that I like, but also a nice fruitiness that sets it apart from your more run of the mill OG Kush. It has sort of an overripe banana/mango smell mixed in that I didn't think would work nearly as well as it does.
It's got that euphoric stone that comes with OG territory, but also a creative headiness. It's not a typical OG by any stretch, but it's also gonna satisfy any OG lover out there. We all know a guy it wouldn't, but we don't need to listen to him anyway.
It's a good any time smoke for an experienced consumer. Newbies might want to save it for the end of the day, but patients needing relief without overwhelming mental fog could do a lot worse than this stuff. I haven't tried much from the farm, but they seem to have a decent reputation in the community, and I look forward to reviewing some more options from them in the future. Definitely worth the buy, and something I'd recommend to new smokers and old school heady bois alike. Everyone who tries it enjoys it, so keep an eye out.
#thehighestcritic #strainreview #strainreviews #weedreviews #420review #portlandcannabis #OMMP #portlandweedreviews #MMJ #oregoncannabiscommunity #portlandcannabiscommunity #oregonweedreviews #Medicate #oregoncannabis #PNWStoners #PDXcannabiscommunity #pdxcannabis #pdxstoners #cannabiscommunity #cannabisreviews
Advertisements