Strain Review: Ed Rosenthal's Super Bud (ERSB) by Sensi Seeds
Ed Rosenthals Super Bud (ERSB)💚
Lineage/Genetics: Afghani x North Indian x Thai x African x Mexican x Jamaican
Original Breeder: Sensi Seeds
Ed Rosenthal's Super Bud (ERSB) Strain Review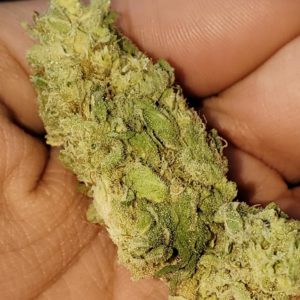 THC 23% Hybrid (50/50)
My first thought upon seeing this bud was regarding how beautifully and sparkly the crystals looked, let me tell you the picture doesnt do it justice.
Well this strain is great for pain and loss of appetite and mood alteration, can be uplifting and euphoric.
It's body relaxing and like many dites say "thought provoking".
It helps one focus like a good sativa while also calming you down like a good indica.
If you get paranoia, I'd steer clear of this one unless you are with good company and have something to do while high. Ed Rosenthals also kinda motivates you to want to do something, particularly if you are feeling down.
Commonly used for depression and PTSD according to some research and my input is that honestly this strain is GREAT for when depressed or down, if i feel fine and i smoke this strain i don't enjoy it.
So very medicinal purposes.
.
.
.
.
.#weedblog #weedlife #weedporn #weedlover #weedgirls #weed #marijuana #cannabispr #cannabiscommunity #cannabis #cannabisculture #smoking #weedblogger #smokeweedeverday #iloveweed #mj #420 #420blog
#smokingfetish #stoners #stonergirl #weedreview #weedculture #weedenthusiast #weedlover #cannabislover #cannabisenthusiast #hybrid #indica #sativa
Advertisements