Strain Review: Gorilla Butter F2 by Blockhead Buds
Gorilla Butter F2 (aka "White Truffle") – @blockheadbuds
Nose: Earthy, gassy, diesel, floral spicy, woody
Inhale: Earthy, diesel, nutty, piney, spicy
Exhale: Earthy, musty, lemon/citrus
Lineage/Genetics 🧬: Peanut Butter Breath x GG4
Bred by: Fresh Coast Seed Co @freshcoastseedco
Grown by: Blockhead Buds
Terpene Profile: Unknown
Gorilla Butter F2 Strain Review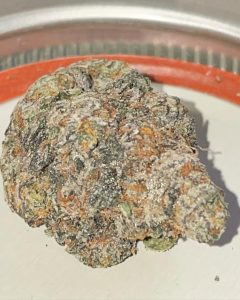 Hey what's up everyone? Happy Friday Jr. to all Ian's hope everyone's week is rolling along along with getting excited for the weekend coming up. Today I have a special review and a debut from a brand out in Cali called Blockhead Buds. To be honest with everyone, before a friend gifted me with some their Gorilla butter I had no clue who they were. I was excited upon receiving this and this bud was extra stinky. When I did my research (over IG) I noticed Blockhead was a small batch cannabis grower who has perfected new strains such as "Blockberry." Let's waste no more time and get into the facts.
The Gorilla butter F2 game in a standard Mylar bag. The printing material was quality and the logo depicted some sort of a ancient Mayan statue. It was mentioned to me that this is the only design they use to cover all strains which I thought was cool straightforward. When I opened up the bag I was met with an extremely gassy odor. The first scents I remember hitting me were earth and diesel but I also caught a hint of spicy, floral, and woodiness in there as well. The buds were somewhat compressed but were ever so sticky and dense. When I took a first glance at the nugs I saw some light green and yellow hues mixed with a navy blue to purple color. Although the pistils were tucked in and underwhelming but the way the light hit the crystals on this was simply amazing. This was one type of bud you definitely want to use the two-turn method when breaking up. Expect the yield to be less than normal and pack a little more when rolling the joint up.
I would recommend the Gorilla Butter F2 to more higher level smokers. I believe beginners and some intermediate level smokers might find this a little too overwhelming due to the sharp gassiness exhibited on the inhales. I do feel like this would be a perfect fit for those indica-leaning connoisseurs who do enjoy a rich and gassy profile with a powerful punch to compliment. For patients, this could be ideal for those who suffer from any joint aches, arthritis, and tightening muscles due to the strong euphoric and relaxing vibes this strain fed off. All in all, this bud isn't for the weak or heart and may be a little too gassy for some to handle so proceed at your own speed. I was more than impressed by the first and only offering I had from Blockhead buds at the moment. I'm going to keep my eye out for them as I've heard the Blockberry could make an appearance over this way in the near future 🙌🏻
When I sparked the Gorilla Butter F2 in an organic RAW, I felt a sharp gassiness effect take over from start to finish. From the initial inhale, I could sense the diesel taste from the GG4 parent. Those Chem notes were present as well and, on the way out, I was met with more of a musty citrus. These citrus terps became a lot clear about a third of the way in as the joint exhibited almost a lemon bunt cake taste on the exhale. The inhales remained diesel but I also caught some pine, spice, and nuttiness terps as well. The taste was really what you would expect from combining two heavyweight strains into one. The joint burned extremely slow given the sticky nature resulting in a heavy light gray-to-white ash and a pretty thick res ring to compliment with nice drip. The strength of this one was certainly second to none and, honestly, made me tap out a couple times. Overall, I think the smokability of this was great but not for the weak of heart.
The strength of the smoke contributed to a pretty intense, but quick, body high. Within 10 minutes of turning the joint off, I felt a cerebral high take over that had me locked in both through the body and mind. I felt increased focus but the looseness created in my joints made it fairly tough to get up for about 15-20 minutes. This quickly wore off and I went through a deep hunger state afterwards. It's kind of hard to pinpoint the high on this one, however, one main feature was a relaxed feeling in my upper body. My eyes were almost glued shut from the pressure from it but I was still able to make my way around it. This was a short-lived high however and only last around an hour but was worth its weight in gold. All in all I really enjoyed the high that the Gorilla Butter F2 brought to the table as it was crippling enough but not enough to completely put me out of commission.