Strain Review: Bad Motherfucker by Mount Burnin Farms
Bad Motherfucker – @mountburnin415 @shoppingcarts.ca
Nose: Earthy, fruity, citrus, nutty
Inhale: Fruity, floral, creamy, citrus, earthy
Exhale: Musty, fruity, creamy, spicy
Genetics 🧬: Undisclosed (Silky Gelato x Haupia)
Bred by: Waiting on confirmation
Grown by: Mount Burnin Farms x Shopping Carts
Terpene Profile: Unknown
Bad Motherfucker Strain Review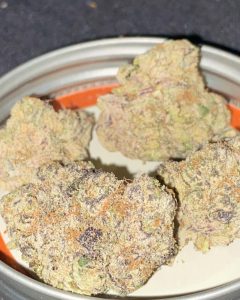 What's up everyone! Happy Tuesday and we are only a couple days out from Thanksgiving. Today I have another review for you and one of the first notable collaborations I have been able to bring you since starting this page. This is another one featuring Mount Burning teaming up with a frequent collaborator of theirs who is Shoppingcarts415. Shopping Carts is another brand who is featured within multiple dispensaries throughout California and have built a notable repertoire of strains. A list of MB and Shopping Carts collabs include: Poi, Haupia, Haupina, Waupia, amongst others. Today we are going to dive into the Bad Motherfucker strain that they had to offer. For those of you who don't know this is a cross between Mount Burnin's Silky Gelato and Haupia (which these two collabed on as well). Let's waste no more time and get into the facts.
The packaging on this one, to put it simply, was stellar. This Pulp-Fiction themed square Mylar bag feature both Mount Burnin's chicken mascot as well as the one-tooth head figure that represents Shopping Carts. From the suits down to the chrome 45s this artwork was a cut above from most stuff you see on the street or on the shelves.
Overall, the Bad Motherfucker led to a pretty uplifting smoke. I felt like this was a there was a mild body high which could probably be attributed to the Silky Gelato within the genetics. This oddly left me with a nice message-like feeling within my head and legs. I really felt spontaneous and a lot more outgoing than I usually do off strains that provide more indica-dominant effects. I was definitely talking out of my ass as my girl pointed out and really seemed to be zipping around between thoughts. I probably would of had the urge to go out and walk this off despite the fact it's been 30 degrees out most of the week. I definitely feel that this did the trick but I wouldn't say that it was overwhelming or anything that separated itself from the pack. All in all, the Bad Motherfucker was one of those strains that snuck up on me a little later than expected but left me with a pretty potent buzz for almost a couple hours.
I think that this is a strain that would fit the criteria of a variety of smokers. First off, the terp hunters will love the uniqueness in this strain from the blend of creamy coconut, guava and spiciness give that distinct taste profile. Secondly, I believe like this would be a doable smoke for most intermediate to advance-level smokers. The reason for this is that it isn't quite a "coma-level" smoke, however, still provides enough punch within a moderate amount to appeal to a mass group of smokers. Although I'm kind of stuck on my recommendation for patients, I do believe the uplifting effect would be suitable for those who have depression, mood swings, or any other type of mental instability. I thought that Bad Motherfucker was a lot stronger of an offering than the Silky Gelato was and left way more of an impact. I appreciate the guys from Mount Burnin and Shopping Carts for making their way out here and I will definitely be on the look out for more from them.
When I first opened up the bag I experienced a light fruity smell mixed with a touch of citrus and nutty aromas. The overall nose of the bud was overwhelming but definitely had its own unique style. The buds themselves were extremely fluffy and a bit compressed from the Mylar packaging. When I pulled the buds out themselves they were massive and completely powdered with crystals that flaked off every time the nugs were touched. Aesthetically, the bud was nothing short than beautiful. Dominant shades of dark purple and blue that, again, were covered in white crystals. Even the pistils were difficult to gain sight on due to this. When broken apart, shavings of kief and tiny flakes scattered leaving a bunch of particles on my rolling tray. Broken down, Bad Motherfucker exhibited a bit of a floral and light spicy funk which hinted that the terp profile on this could be a lot more complex than expected. The yield, considering the fluffiness, was pretty decent but you did need to squeeze a little extra in the joint in order to pack it in nicely.
When I sparked the Bad Motherfucker in an organic RAW, I immediately noticed very similar terps to the ones I felt rich terps of fruit, floral and creaminess take over. On the way out, this retained the notes of fruit and cream but exhibited more of a musty spice. There were a mix of z terps on this one, similar to the Silky, as well as a touch of coconut, gauva, and even melon. The coconut taste, in my opinion, could be found within the depths of the creamy profile this fed off. This spice on the backend did leave somewhat of a mouth-washing effect which made for a bizarre, yet taste, profile all in all. There wasn't really a change in terps throughout the smoke as the Bad Motherfucker ended up being straightforward. The smoke resulted in thick white ash with a massive res ring to surround with impeccable drip. Although this did amplify the tastiness of the smoke it did create a little too much resin at times forcing me to give the joint a little more fire. Overall, the smokability on the Bad Motherfucker was very good and led us into a fair high.
Advertisements