Strain Review: White Gelato Plus by Dubz Garden
White Gelato Plus – @dubs_garden @la_coz_
Nose: Creamy, sweet, vanilla, fruity, gassy
Inhale: Floral, gassy, sweet, vanilla, smoky, spicy
Exhale: Earthy, fruity, vanilla, creamy
Genetics 🧬: White Runtz x Gelato 33
Bred by: La Coz Exotics
Grown by: Dubs Garden
Terpene Profile: Unknown
White Gelato Plus Strain Review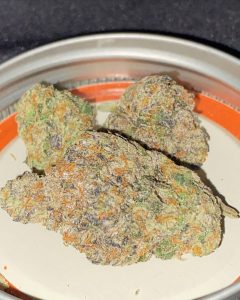 Hey what's up everyone? Happy Thursday and Happy Danksgiving. I hope everyone is enjoying the day with family, friends, etc. along with using it to relax and putting the breaks on life for the day. I'm going to be covering a special one today that hails from Oakland, CA which is none other than Dubz Garden and La Coz. For those of you who don't know anything about these guys they have a decent-sized collection of strains that include: Omertà, Super Nova, Mona Lisa, and the one we will be covering today; White Gelato Plus. This particular offering can be found across multiple dispensaries in California including, most notably, Cookies. The aura of this one reminded me a lot of the Jelly Creme that we covered a little over a month ago from Trappack. Let's waste no more time and get into the facts.
The White Gelato Plus came in a square Mylar bag. I was slightly more impressed with the print job on this one as compared to most bags. I thought the design was pretty simple and straightforward which depicted a scoop of vanilla gelato sitting on top of what I believe is a white rose (although I'm not positive). This hints at the flavors we may find within. The holographic lettering on it did spruce it up a bit giving it a bit of pizzaz upon cracking it open.
The high from the White Gelato Plus was in line with what you'd expect from a gelato offering. I saved this one specifically for a Saturday night that I planned inside the house to watch college football and listen to some tunes. I was glad I did as this really pumped the breaks on any plans that I was intending on having. It didn't take long for a strong euphoria to take over my body which locked in especially within my shoulders, chest and upper back. Personally, this was great way to spend a night in and didn't boggle me down which was an added bonus. I did feel a mild case of wandering off into my thoughts on this and a decreased ability to pay attention. The munchies hit me hard and, before you knew it, I was raiding the fridge for whatever snacks I could get my hands on. The high lasted for about an hour and 1/2 leaving a bit of a drowsy effect on the way down. All in all, I thought this was an ideal high and one of the more enjoyable highs I have received off a Gelato cross recently.
I highly recommend the White Gelato Plus to any gelato-lover seeking more advanced taste profile. The rich vanilla and creamy notes that blend in with those spicy and fruity flavors will be a highlight for all of your terp hunters out there. Additionally, I believe that this would be suitable for any advance-level smokers who tend to lean towards indica-dominant offerings. Personally, I'd recommend a night in on this unless you prefer going out in public and drooling over yourself while you stand up against the wall in the club or at a bar. For patients, this could be used to remedy many different pain-related illness. I also feel that this would be a good cure for those who struggle with anxiety (like me) and depression given the calming effect this had within the upper body region. Altogether the White Gelato plus is one of those "who's who" offerings at the moment that has potential to appeal to a mass range of smokers. This was the debut I was expecting from the men at Dubz Garden and La Coz and will keep an eye out for other offerings they may have that land in the Boston area.
When I sparked up the White Gelato Plus in an Organic RAW, the first thing that caught my attention was a mix of vanilla, fruity and berry terps which left a delectable taste in my mouth. There was a distinct creaminess which increased steadily throughout the duration of the sesh. Personally, the creaminess reminded me of the one you would find within the Jealousy strain. On the way out, I retained a similar terp profile as those creamy notes stayed prevalent as well as those rich fruity and vanilla terps. Even though there wasn't too much change in taste throughout the duration of the sesh, I did notice a touch of diesel about halfway through that was short lived. This was soon absorbed back by the strong taste of vanilla I discussed earlier. Additionally, there was an added spice that kicked in about 1/4th which added to the uniqueness of the smoke. The pulls were sharp and gassy with an added smoothness that didn't lead to too much coughing nor a significant amount of pressure in the chest. The burn was smooth and seemed to last forever. The White Gelato Plus resulted in a turkey-bone white ash and an oozing res drip throughout the sesh. Overall, I thought the smokability on this one was above par and really put out that complex terp profile I'm always seeking in these gelato variances.
When I opened up the packaging, I was hit right in the face with notes of vanilla creme and a bit of spiciness as well. I also caught a little bit of fruitiness to it although it was difficult to pinpoint which varieties were within. The nugs were dense and sticky to the point where you had to fight a little bit to break open them open. Once broken apart, the spicy smell amplified which left an aromatic funk throughout the living room. The aesthetic of this bud was captivating enough with an equal blend of light and dark green colors mixed in with some purple spots as well as a generous amount of pistils. The pistils were scattered throughout and the triches on that stood out as the White Gelato Plus had a healthy coating of crystals. Due to the bud being so sticky and dense, the 2-turn method when grinding up. It was one of those offerings in which the palm of your hand cramped up from the forced applied to turn the top of the grinder. The yield was ok but I felt a bit slighted on it and you most definitely will need to fill the joint with more than intended up break up.
Advertisements