Strain Review: Hoof #4 from The Roots Dispensary
Today I will be reviewing the Hoof #4 from @montereykush.co.
Lineage/Genetics: Nom Nom x Thug Pug
Original Breeder: Scapegoat Genetics
Grower: Monterey Kush Co. (Monterey Botanicals)
Dispensary: The Roots Dispensary
Hoof #4 Strain Review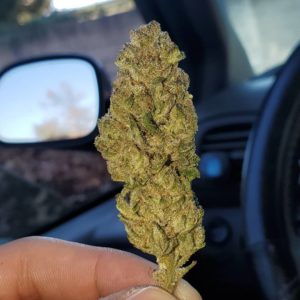 The Hoof #4 is a very nice indica. I popped the jar open and the smell of crisp hay with slight notes of pine. It has a long and narrow yet leafy nug structure, covered in trichomes from the base to the top. Hints of purple dot the crevasses of the nug and burst into full vibrance upon breaking it apart or grinding it up.
I grinded up a nug and tossed that into my flavor savor water piece and smoked a bowl. The taste of blueberries filled my palette on the inhale with a subsequent gassy diesel exhale. The bowl burned rather smoothly and I was able to take large hits with minimal to no coughing. The taste stayed true to the very end of the bowl, which is a quality I constantly look for in cannabis.
All in all, the Hoof #4 is a good strain. The batch I got was testing at 28.83% on the cannabinoids and 23.99% on the THC alone, so it was definitely a formidable opponent. I felt calm and relaxed afterwards, ready to take on my day. For the price point and experience, I would definitely recommend this to any fans of indicas or just those enthusiasts who want to wind down after a long day.
.
.
.
.
#hallOfFlamez #cannabisReviews #reviews #cannabis #420 #420gram #cannabiscommunity #805CannabisSociety #805HasFire #805 #weed #kush #montereyKushCo #Hoof4 #indica #flower #bud #marijuana
Advertisements