Pre-Roll Review: Double Nom Nom by The Country Club
Double Nom Nom pre-roll made by @thecountryclub__
–
1,3g organic nom nom flowers
0,2g solventless nom nom extract
–
Nom Nom Lineage/Genetics : Cherry Pie x Gorilla Glue#4 x Mainline OG 🌎🌲🍄🍒⛽️
Original Breeder: Scapegoat Genetics
Grower: The Country Club
Processor: The Country Club
Double Nom Nom Pre-roll Review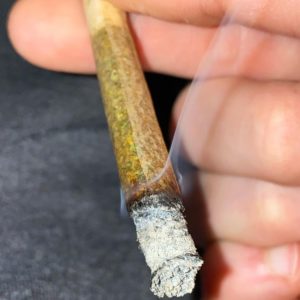 All grown & processed organically by @thecountryclub__ .
–
Type of roll : handrolled backstrap with gloves, no saliva.
–
–
Hi fam ! I was really excited for my first pre-roll review & I must say this team does not disappoint at all😍👌.
–
–
The pop top box perfectly fits the rolls & secure them enough to not be damaged during transport. When you pop the lid by squeezing the top you're met with mouthwatering earthy/chem/shroomy aromas that further develops in a more sour & piney profile before ending in tart sweetness from the cherry pie. The nose is super loud & absolutely fits the sensations one would expect when reading the lineage. Maybe if I'm being really picky I would expect some more OG gas but the synergy between the Gorilla & Mainline makes for a more chemdawg type of terp that I am digging a lot 🥰
–
–
When sparking up the joint you need to do a few initial puff to initiate the burn perfectly because of the density/tightness of the roll. This result as some very restricted (for my liking because i love wide open airflow) draw for the first part. This was intentional from the roller because he wanted to achieve a slow & long lasting burn with the best flavour all the way through. Success ! The roll burns perfectly with a crazy snowy fluffy white ash, i'm even tempted to say that it's a pure 10/10 on a combustion point. Flavours are coming strong from beginning to the last puff. It feels almost like a new sunset sherbet cut, earthy/shroomy funk rounded by a delicate tart sweetness without the nutty/almond like taste that you get from cookies/gelato related strain. Sheeeesh I'm lovin' it 😍
–
–
The high is a true creeper one, you keep on puffing for those crazy terps & then suddenly realize a lil euphoric head rush that will turn later on a more couchlock trippy vibe that settles for hours on end.
–
–
For a first experience with a pre-roll I'm fairly impressed from the work done by @thecountryclub__ .
I feel really blessed to have found this crew that delivers the perfect luxury smoke one is entitled to expect when buying expensive pre-roll. From the loud, clean & potent nomnom material used to the craft « artisan roll » finish & flawless combustion. Keep it up guys ! 👏🙏
–
–
#strainreview #strainreviews #prerolls #420 #hightimes #cannabisculture #cannabiscommunity #cherrypie #gorillaglue #mainlineog #nomnom
French cannabis lover, that became hooked when first growing OG & Haze in high school.
Advertisements