Strain Review: Maroon Baboon by SF Cultivators
TGIF
@sfcultivators
@trunorcal420_
Brand: SF Cultivators
Cultivar: Maroon Baboon
Lineage/Genetics: Gelato 33 x Grease Monkey
Original Breeder: SF Cultivators
Grower: SF Cultivators
Maroon Baboon Strain Review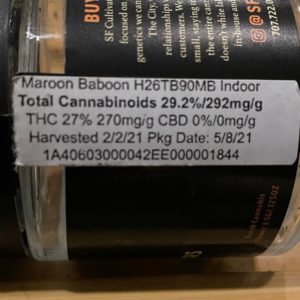 27 % THC
0 % CBD
29.21 % Total Cannabinoids
Pkg date: 5/8/2021
Comments: New Cultivar alert! Ive seen this name around IG so when I saw the homies at SFC grabbed it, I had a feeling it would be worth the try. Let's break it down.
Review
1. Scent: Getting that gelato sweet but a hit of a syrupy something. Maple? It's def something I've noticed in another cut, I def am feeling this.
2. Appearance: Lots of orange glowing hairs coated with frosting like trichomes. Hella purple nuggets all over the place. Wild.
3. Nug Structure: Dense dudes for sure. Grinder would work but I'm keeping it by hand RN.
4. Smoke: Dense exhale off the bubbler. No cough and it's a small corner hit. Damn this will burn for a min.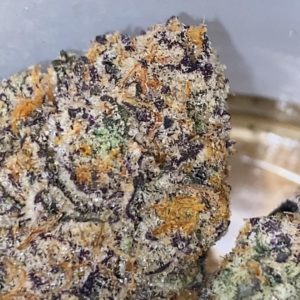 5. Taste: Leaves a little bit of a maple bar and gelato sweet twinges here and there.
6. Reaction: Mmm! I'm balancing a nice head high off that grease monkey and getting the soothing body relaxing from the gelato. Fun high so far, not zombie like stuck on the IG, concentration is up.
7. Conclusion: Didn't wanna smoke it all. Honestly milked this for as long as possible before finishing. It's a flavor that really struck me as a balanced stone for any occasion or level.
8. Methods: 🔎🔎🔎🔎🔎 👀💪 🦍
#NoHashTagz