Strain Review: Jack Herer by Cedar Creek Cannabis
One of my favorite strains from one of my favorite groweries: Jack Herer.
Lineage/Genetics: Haze x Northern Lights #5 x Shiva Skunk
Original Breeder: Sensi Seeds
Grower: Cedar Creek Cannabis
Cedar Creek Jack Herer Strain Review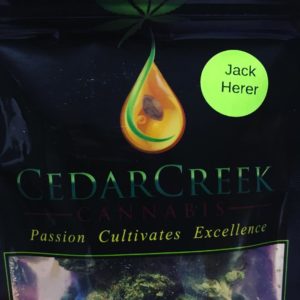 This sativa is uplifting, clear headed and motivating.
The high and aroma of Jack Herer reminds me of that skunky, earthy, light headed, purely cerebral highs of old school weed that is very hard to come by after prohibition ended.
Cedar Creek's product has a fresh floral scent along with the potency and quality I expect from this producer and connoisseurs of the arts of growing and protectors of ancient strains.
If you love this strain or use it then pick up some at your local dispensary by asking for @cedarcreekcannabis and you will fall in love with this strain all over again and meet the man or woman of your dreams today.
.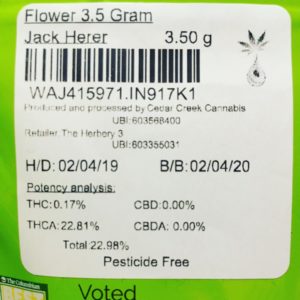 THC: 0.17% THCA: 22.81%
CBDA: 0.00% CBD: 0.00%
Total: 22.98%
Harvest Date: 2/04/19
Pesticide Free
.
.
.
.
#420 #420Society #TopShelf #Weedstagram #i502 #LegalCannabis #Kush #Legalizeit #WaRecreationalMarijuana #cannabisculture #CBD #THC #Terps #Terpenes #710 #hotbox #WeedPorn #710society #Weed #Cannabis #Hemp