Strain Review: Jazz by Big Beard Farms
I like a sativa hybrid quite a bit. Like, I'm an indica guy to the extent you can be when everything you try is a hybrid, but sativa hybrids really scratch an itch for me. It winds me up with a lot of citrus and gas terps in my life, but that's perfectly fine. The Jazz from @bigbeardfarms420 isn't gonna be a gas lover's ideal, but someone who wants to get lit up like a Christmas tree and still have the energy to walk the dog is gonna be happy as said dog on a walk.
Lineage/Genetics: Galactic Jack x Raspberry Kush
Original Breeder: Heroes of the Farm
Grower: Big Beard Farms
Dispensary: Urban Farmacy
Jazz Strain Review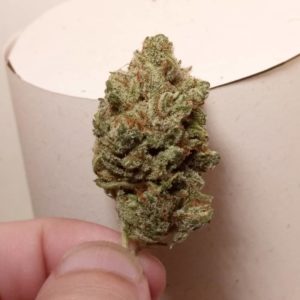 It has sort of a Sprite aroma to it with an astrigency kinda like one of those "all natural" cleaning sprays. There's some hashy, kinda earthy notes in there that I can't put my finger on or really describe properly. Honestly, this is one of the descriptions I'm least confident in. It has a lot of dominant notes that I just can't put my finger on, no matter how much I smell it. I would need a good deal of this weed to get a real feel for it.
It had a stimulating and euphoric effect to start out, lacking the gitteriness I sometimes get from the more energetic sativas. That all died away after about half an hour, though, and couchlock set in pretty hard. This just felt like that old school bud that had your eyes low, had you talking, then left you in the couch eating raw egg noodles out of the bag like chips.
Like I said, my description of the scent on this one is not one that inspires confidence. You'll probably have your own experience with Jazz if you try some, but it's one I'd recommend anyway. @urbanfarmacypdx is the main place I know of that carries Big Beard, so hit them up if you get the chance.
#thehighestcritic #strainreview #strainreviews #weedreviews #420review #portlandcannabis #OMMP #portlandweedreviews #MMJ #oregoncannabiscommunity #portlandcannabiscommunity #oregonweedreviews #Medicate #oregoncannabis #PNWStoners #PDXcannabiscommunity #pdxcannabis #pdxstoners #cannabiscommunity #cannabisreviews
Advertisements