Strain Review: M4 by Big Beard Farms
I'm always yammering about unique terps. The sweet orange Kool-Aid from Tropicanna Cookies, the fermented, cured meaty funk from Meat Breath, or the tangerine Cheeto funk from Triangle Kush Tangie. Basically anything that goes beyond dough, gas, chemicals, and lemony citrus gets my engine going in a way that might make some uncomfortable.
@bigbeardfarms420 dropped me a line a minute back asking about a collab. I have not been disappointed by a single sample he gave me, but the M4 (bred by @heroesofthefarm) is probably my favorite, and is definitely the most unique.
Lineage/Genetics: Mystery Machine x Mad Max
Original Breeder: Heroes of the Farm
Grower: Big Beard Farms
Dispensary: Urban Farmacy or Satchel
M4 Strain Review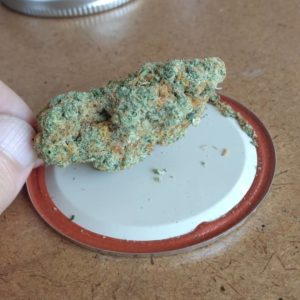 It's sweet, but the sweetness goes beyond berries, fruit, sugar, and cookie/pie dough. It's got this sweet corn, chicken and waffles with orange marmalade goodness that I haven't gotten from ANYTHING before. Like, the nugs got a bit smooshed in my pocket, but Jesus that smell.
The high is pretty hybrid, but sativa leaning. That cloudy eyed, goofy euphoria that isn't gonna put you to sleep. I get some minor jitters from more energetic strains, but I wouldn't call this energetic. It's a high that'll tolerate some activity, but it's also not necessarily gonna get you up out of your seat.
I really, really like this stuff, and I like this farm. They work with a number of local breeders, and their final product is real nice. The main places in Portland I know to get their stuff is @urbanfarmacypdx and @satchel.pdx, so stop in to grab some there.
#thehighestcritic #strainreview #strainreviews #weedreviews #420review #portlandcannabis #OMMP #portlandweedreviews #MMJ #oregoncannabiscommunity #portlandcannabiscommunity #oregonweedreviews #Medicate #oregoncannabis #PNWStoners #PDXcannabiscommunity #pdxcannabis #pdxstoners #cannabiscommunity #cannabisreviews
Advertisements