Strain Review: Gorilla Glue by Magic Hour Cannabis
So I built a new photography box exclusively for taking pictures of this Gorilla Glue from @magichourcannabis. What that turned into is like an hour of work and exactly zero useable pictures of the intact nug. Instead you get pictures of my broken into nug hastily shot minutes before writing this review. Sue me.
Lineage/Genetics: Sour Dubb x Chem's Sister x Chocolate Diesel
Original Breeder: GG Strains
Grower: Magic Hour Cannabis
Dispensary: Tetra Cannabis
Magic Hour Cannabis Gorilla Glue Strain Review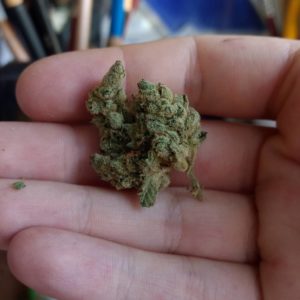 The weed was real nice, though. I was super happy to see @tetra.pdx carrying these guys. A friend recommended them when I was looking for BIPOC/minority run farms and brands to review, and I'd been trying to figure out the best way to grab something from them. Until I found these guys, I was having to travel halfway across town to @releafhealthcannabis to support diversity in the market, now that's just a pleasant way for me to try new products.
The Gorilla Glue really impressed me. There are people better qualified to tell you if this was a "legit" GG4 cut, but I know good weed, and that's what this is. The smoke was notably smooth, the nugs cured well, and the trichomes sufficiently intact.
It has a grassy, somewhat gluey aroma that isn't necessarily brimming with depth of flavor, but it's pleasant and enjoyable, which is what counts in the end. It was clearly flushed and cured well, which really led to an enjoyable smoking experience devoid of extreme coughing fits or unhappy vibes.
The high wasn't overpoweringly heavy, but it's still nice and relaxing. It's one that I've been smoking for mid-day chills as opposed to night time sedation or morning energy. True hybrid shit here.
Don't just support these guys as a black and latina owned company, support them as a really solid farm and support efforts to make diversity not so god damned notable in the market. I hope they do more drops at @tetra.pdx so I can keep trying their stuff. I'm excited for the LA Kush Cake they got coming up. If this Gorilla Glue is any indication, you should be too. Man, we got some nice weed in this town.
#thehighestcritic #strainreview #strainreviews #weedreviews #420review #portlandcannabis #OMMP #portlandweedreviews #MMJ #oregoncannabiscommunity #portlandcannabiscommunity #oregonweedreviews #Medicate #oregoncannabis #PNWStoners #PDXcannabiscommunity #pdxcannabis #pdxstoners #cannabiscommunity #cannabisreviews
Advertisements