Strain Review: Nerds by Oregon Microgrowers Guild
True to its name, Nerds has a sweet, fruity profile.
Linegae/Genetics: Grape Ape x Strawberry Cough
Original Breeder: Oregon Microgrowers Guild
Nerds Strain Review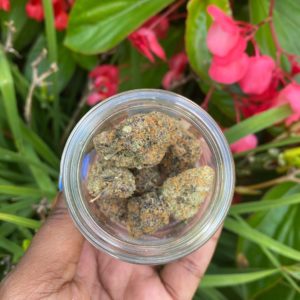 This cultivar is a 50/50 hybrid cross of Strawberry Cough and Grape Ape. The high starts off very euphoric and stony but it slowly dissipates into a calmness that was quite nice for focusing on my writing.
For me, it was the perfect after work strain to let loose before easing into a more steady state. ⁠
⁠
What are you smoking today? ⁠
.⁠
.⁠
.⁠
.⁠
.⁠
#ilmmj #mmjlife #medicalcannabis #cannabiscures #strainreview #cannabisreview #classycannabis #poshpot #upinsmoke #cannabiscreative #womeninweed #weedphotography #goodtree #kushqueens #cannaqueen #nugshot #healingherbs #herbalmedicine #cbdtincture #plantmagic #medicinalplants #cannabisfeminist #successfulstoner #cannabisqueen #modernstoner #womenwhosmokeweed #womenincannabis #womenwhosmoke #blackwomenincannabis #cannacurious