Strain Review: Mandarin Dreams from Trulieve
Mandarin dreams from @trulieve_fl is a great strain to relax and fall asleep; if you'd like to.
Lineage/Genetics: Stormtrooper #2 x Mandarin Sunset
Original Breeder: Ethos Genetics
Grower: TruFlower
Dispensary: Trulieve
Mandarin Dreams Strain Review
I notice some differences in the smell between batches, but the effects always tend to be the same. Sometimes it smells like straight up mandarins and other times it's mild but, still present. Still, very sedating and enjoyable. Their crumble of this is great too if you ever get a chance to try. 🍊🍊🍊
Thc: 19.9%
Taste: 9/10
Effects: 8/10
Nose: 10/10
minis Review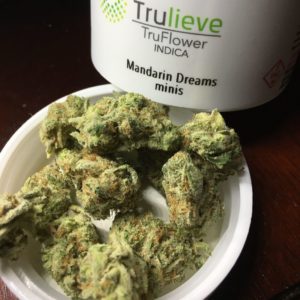 The minis are nice, too. Bright citrus smell and a good daytime indica.
#indicadam #southflorida #westpalmbeach #cannabiscommunity #flmedicalmarijuana #floridamedicalmarijuana #flcannabiscommunity #legalcannabis #floridammj #floridacannabiscommunity #flmmj #floridacannabiscoalition #floridacannabisclub #thc #cbd #cbg #cbn #terps #medicine #hybrid #indica #mandarindreams
FL mmj patient
Cannabis advocate cataloging strains available to patients in beautiful Florida
Nothing for sale
18+ page only
Advertisements