Strain Review: Peaches and Crème by Team Elite Genetics
Peaches & Crème
@teamelitegenetics
Lineage/Genetics: Peach Ozz x Creme de la Creme
Original Breeder/Grower: Team Elite Genetics
Terpene Profile: Unknown
Peaches and Creme Cannabis Cultivar (Strain) Review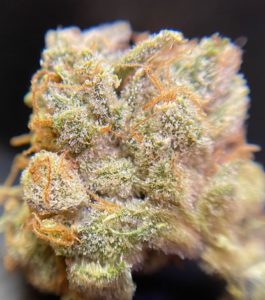 Award winners peach ozz & crème de la crème are crossed to make peaches and crème. Let's dive in.
Aroma: A-
Sweet peach florals combine with light barley hops, and a funky dirty cookie musk. Breaking the nug reveals sharp skunky pungent OG lemon pine gas, with a hidden peach-pear tropical herbal note. A tiny hint of sweet terpinolene candy chemical pungency, mixed with a sativa herbal peppery pungency, is Sourrounded by cream notes and dirty coffee cookie musky & burnt rubber gas terps. Sweet creamy gassy musky and funky. I'm picking up the elite OG & Grandmas cookies, through genetic expression, with a peach ozz twist.
Appeal A
Light green bases, lead to mid green outers with occasional purple shadings on the tips, burnt yellow orange trimmed leaf tips with long orange pistils lead to a half equatorial sativa – half kush look, squat wide catchers mitt shaped kush nugs stretch upwards slightly, but with an organic calyxed out, trichome saturated, semi-open build. Very greasy and pretty sticky. Soft but crisp cure.
Burn A+ Taste A-
Perfect burn, fluffy pure white ash, with a huge drippy motor oil terp ring, the taste were crisp peachy florals with a deep fried cookie cream, & dirty musky funk, with a lemon pine OG layer and a hidden peach ozz pungency with an herbal tropical layer. Hidden burnt rubber, and barley hops cream. Smooth but gassy lung pressure.
Effect A potency A-
Strong head and body Change, both relaxing and Stoney, eyes red and low, couchlock-able but with some euphoric uplift. Moderately heavy. 3hours enjoyable entourage leading to good sleep.
Overall A
Very enjoyable, the terps are funkier than expected but complex nonetheless, the appeal is great, the burn is perfect, w/ clean Stoney effects. All the ancestor strains are showing themselves nicely. This one is truly clean & satisfying in the smoke.
Nothing is ever for sale!
Reviews only!
Beware of imposter accounts!
#teamelitegenetics #calibudreviews #peachesandcreamstrain