Strain Review: Raindance by Greenpoint Seeds
RAIN DANCE (Raindance) 💙 [TRIM]
Hybrid indica dom
THC 20.73%
Lineage/Genetics: Deadhead OG x (Chemdawg 4 x Chemdawg Bx)
Original Breeder: Greenpoint Seeds
Raindance Strain Review
I love Rain Dance. It's one of my top strains because it really works wonders for anxiety. It gives a relaxing head high that leaves you functional when consumed in moderate anounts and relieving the big anxiety pressure.
El body high and the mental high leave you feeling light and at ease, soothing body pains.
It can be smoked at any time of the day because it won't be sedating unless you consume a lot.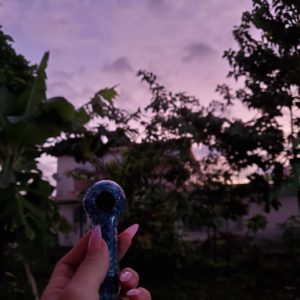 Glass pipe
•
°Light relaxing head high that leaves you functional and a lil (barely) giggly.
El body high is heavier y se siente.
Over all relaxed and functional.
Great for after anxiety o a test o beach.
Alivia dolor corporal poco.
Or to sleep and chill pa ver movies con boo o bestie.
Si no vas hacer nada productivo and just sit there you will fall asleep cuz its indica dominant pero if you are with someone or doing something pues lo haces relaxed y no te sientes pesado doing it. (Keep mind active basically) .
💯this shit is amazing.
I love it. Pienso que los Indian chiefs elders en las pelicula o el gusano de Alice in wonderland mustache smoked this shit to look so chill all the time. I mean "rain dance" is some pretty nature-y chill name. Me lo recomendo uno de mis fav bud tenders y no solo lo digo pq antes me comia. He knows my intense anxiety and recommend something spot on perfect for my liking. •
I've smoked this at the 3 times of the day and they all felt just a lil different.
♡morning: smoked and watched the.sun rise and here I sit typing.
Like i said relaxed body and chill mind, va bien con mi cafecito
I had a rough day yesterday and today I feel positive but the day will be a lil tougher I like to plan my day in the morning and the strain has kept me chill and not over whelmed.y bajo mi back pain
♡afternoon: yesterday I had two emotionally intense test then went out to get some weed with my friends and we smoked it in the pipe listened to music laughed. I felt 1000× better
Relaxed and actually ready to do things that are productive.
♡night: smoked this in bed then chilled with my sis to watch vids asleep soon after no me acuerdo mucho.
Tenia mucho back pain por sitting en una silla.doing my nails y me lo quito.bien cabron. •
I smoked this and no mixing all in a pipe.
Blunt will definitely knock you down like a couch potato and/or make you a giggly mess.
I'll update with any other smoking methods si lo hago. (No promises)
One of @baby.wants.sugar's new fav strains 💕
@nymphoqueserespeta baby you will love
.
.
.
.
#weedblog #weedlife #weedporn #weedgirls
Advertisements