Strain Review: Cackleberry (Cherry Diesel x Stardawg)
Good morning! Today we're going to talk about the Cackleberry strain!
26%thc|1.84cbg|.07cbd
Lineage/Genetics: Cherry Diesel x Stardawg
Original Breeder: Greenpoint Seeds
Cackleberry Strain Review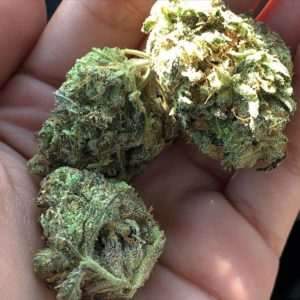 Profiles: This strain has a sweet, berry earthy flavor with cotton candy like odors.
Cackleberry is a perfect 50/50 hybrid strain for when you need to be talkative, uplifted, happy and euphoric. It help patients with depression, stress,fatigue, and inflammation.
Note: You may have dry eyes, dry mouth or feel lightheaded.
#strain #strainoftheday #cannabis #cannabispatient #weed #flower #bud #strainreview #cannabispuertorico #cannabisgirl #cannababe #girlwhosmokeweed #cannababy #kush #cannabisculture #cannabis_cuties #cannabellas #cannabissociety #stoner