Edible Review: Sour Green Apple Gummies by incredibles
Have you heard of microdosing and it's importance? These Sour Green Apple gummies by incredibles are perfect for it.
Processor: incredibles
Sour Green Apple Incredibles Review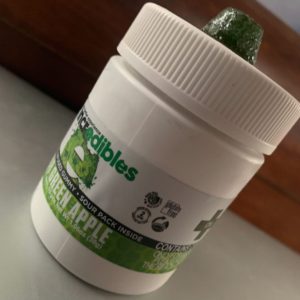 The meaning of microdosing in the literal sense is to dose yourself in a micro form so that you can find the perfect cannabis dosage. @iloveincredibles Created this 10mg each (100mg thc in total) perfect to find the perfect dosage needed for your body. They come with a sour packet inside it if you're into sour gummys. How much is the perfect dosage for you? Mine is 20-25mg thc.
#wow #weed #edible #review #candy #incredibles #cannabis #cannababes #kush #rosin #cannabispuertorico #cannabiscommunity #cannabisgrow #cannabinoid #ganjagirls #ganjagirl
Advertisements